The C-band conversion process has resulted in a — probably — once in a lifetime boost to US satellite orders. SES and Intelsat will order as many as 13 US-built satellites that will require at least 6 rocket launches in order to meet the FCC's ruling to free up an overall 300 MHz (280 + a 20 MHz guard band) by December 5, 2023.
Add to that 13 will be another satellite ordered by Eutelsat, although it is, as of this writing, unclear as to who will win that order.
---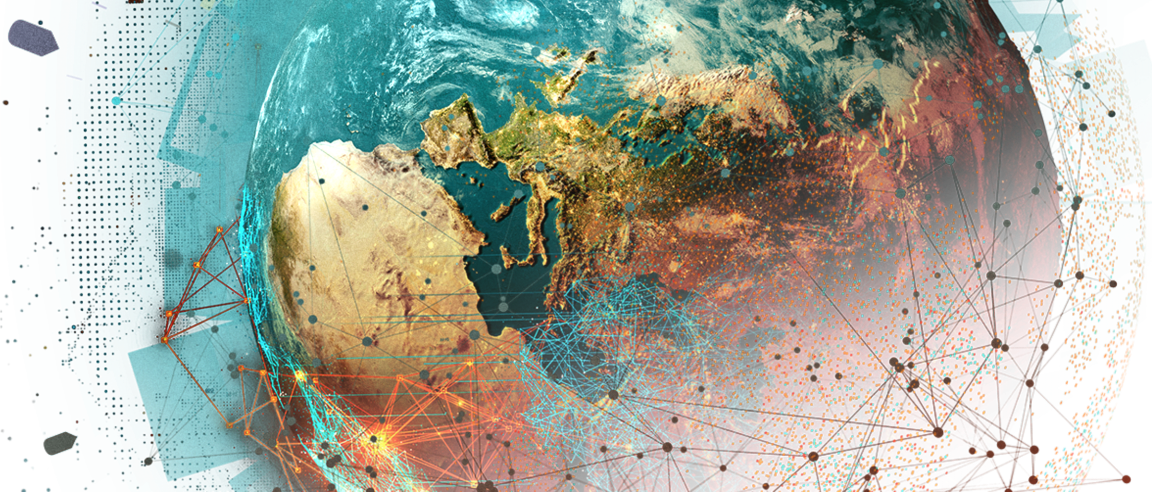 ---
The work isn't limited to the satellite builders — this also means a ton of work for contractors and sub-contractors as they fit tens of thousands of filters and other apparatus at the head-ends of the operator's clients' sites across the country.
The FCC requirements are straight-forward; however, the timetable is extremely tight and doesn't officially permit delays, whether through 'force majeure,' further developments with COVID-19 or even satellite failures.
The FCC has specified that, by the end of next year (December 5, 2021) they must free up all their services in the bottom 180 MHz of the overall 300 MHz plan.

Luxembourg-based SES has ordered an immediate four new satellites from US manufacturers to replace the C-band capacity the company is surrendering as part of the FCC's accelerated C-band clearance plan, with Northrop Grumman and the Boeing Company to manufacture and assemble the C-band only satellites in Dulles, Virginia, and in Los Angeles, California.
Northrop Grumman will deliver two of its GeoStar-3 satellites, each equipped with a high-quality, C-band payload. The two satellites — SES-18 and SES-19 — will be designed, assembled and tested in Dulles, Virginia.
Boeing will deliver a pair of highly efficient all-electric 702SP satellites for SES. The two satellites — SES-20 and SES-21 — will be manufactured and assembled in Los Angeles, California.
SES, in its statement, stated, "These four C-band only new satellites will enable SES to clear 280 MHz of mid-band spectrum for 5G use while seamlessly migrating SES's existing C-band customers. Each satellite will have 10 primary transponders of 36 MHz plus back-up tubes so they can enable the broadcast delivery of digital television to more than 120 million TV homes as well as provide critical data services. The satellites, when launched in Q3/2022, will be positioned at 103 degrees West, 131 degrees West and 135 degrees West orbital slots. The cost of manufacturing these four satellites is part of the $1.6 billion investment envelope that SES has announced in May.
Two additional satellites will be built and act as 'ground spares' in case of problems. The total bill (building 6 craft, plus launch/insurance for 4 of them) will be some $1.25 billion. SES's transition requires the manufacture and launch of four C-band spacecraft comprising:
(i) a replacement at 135º W.L.
(ii) a replacement at 131º W.L.
(iii) a replacement at 103º W.L.
(iv) one on-orbit spare satellite (to be collocated at 103º W.L.) to meet existing contractual obligations to customers for in-orbit protection. The four C-band spacecraft are planned to be launched by the end of Q3 2022, after which the relevant services will be transitioned as described in more detail in the table on the following page.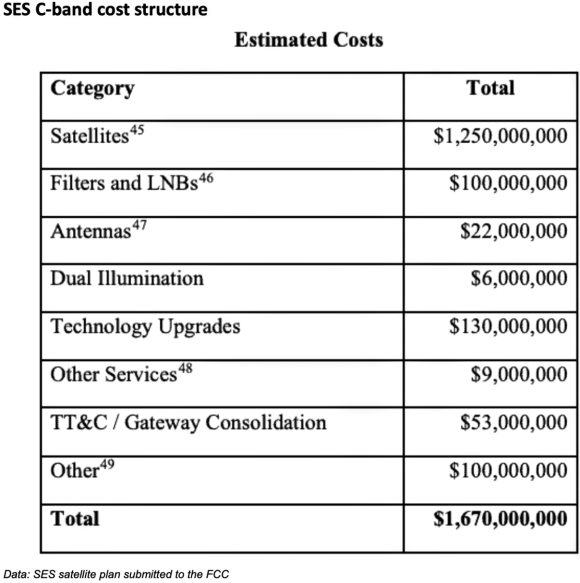 SES stated the company is committed to investing in America by procuring services and equipment needed for the C-band transition from large and small businesses across the US and these significant partnerships with Northrop Grumman and the Boeing Company are cornerstones of that commitment.
"Given the FCC's strong leadership in providing for accelerated clearing of precious C-band spectrum in the US, our focus is on delivering on our commitment and making the spectrum available in the shortest possible time while ensuring that we protect the broadcast customers and communities that we have built over 35 years," said Steve Collar, CEO/SES. "To meet our deadlines to clear C-band spectrum, we have selected established American satellite manufacturers in Northrop Grumman and Boeing with their focus on heritage, reliability and minimal risk to build these four satellites, enabling us to fully support the FCC's 5G Fast initiative."
Intelsat has ordered at least 6 satellites. Four are to come from Maxar Technologies and will be built at Maxar's Palo Alto plant (the former Space Systems/Loral facility). Two others will be supplied by Northrop Grumman. There will also be an additional 7th satellite from Intelsat which is currently under supplier negotiation.
The race is now on for this new capacity to be in place by December 5, 2023. Meeting that date will enable Intelsat to receive $4.87 billion as an 'incentive' reward from the FCC for clearing the spectrum on time and thus be available to aid 5G's rollout over the US.
The Intelsat craft from Maxar will be dubbed Galaxy (see Intelsat table). Northrop's pair will be Galaxy 12R and 15R. All six craft are being scheduled for launch in Q3 and Q4/2022.
Intelsat also reported there will also be a 7th — as yet unspecified — satellite as part of the new C-band fleet. This 7th craft is Intelsat's insurance policy in case of an orbital or launch problem with the initial batches of satellites. Intelsat says this 7th bird will be ordered by this September with a launch date by September 2023, just within the FCC's timetable.

"Quickly clearing 300 megahertz of the U.S. C-band spectrum to make way for 5G wireless applications is a complex task, layered with a significant number of highly interdependent technical activities, including building and launching multiple new satellites designed to operate at the higher portion of the band," said Intelsat's Chief Services Officer, Mike DeMarco, on June 15.
We now also know the costs for the company. Intelsat said their 7th craft will cost a total of $790 million, with launch costs of an additional $390 million, including insurance.
As long anticipated, it seems that SES and Intelsat will be providing extra capacity over and above that required by the FCC and that the rocket builders will break out the additional fees for the extra payloads. In most cases, the new satellites will permit SES and Intelsat to free up existing capacity for either new roles or back-up in orbit.
SES reported that on-orbit testing and the usual drift to their designated orbital slots will take approximately eight weeks, suggesting they are all going to be conventionally launched and will not use electric propulsion for orbit raising.
SES added that, as the C-band rules requires in-CONUS C-band distribution to be consolidated into 200 MHz of downlink bandwidth, SES will need a total of six satellites to support its C-band cable video distribution customers. There will need to be five active satellites to ensure at least 1000 MHz of downlink bandwidth is available to continue existing services (i.e., 5 x 200 MHz = 1000 MHz).
This means that new C-band satellites will need to be constructed and launched, and located in the orbital slots not only at 103° W.L. but also at 131° W.L. and 135° W.L. as well.
SES must replace the C-band satellites at these locations to maintain its service continuity commitments. There will also need to be another satellite to provide capacity needed for protection from transponder or satellite failure.
The SES 'accelerated' plan is split into a couple of phases:
PHASE 1 By December 5, 2021, SES will...
► Relocate all of its commercial services out of the 3700-3820 MHz band exclusive to the contiguous United States ("CONUS")
► Make necessary equipment changes on all associated Incumbent Earth Station antennas located in 46 of the top 50 Partial Economic Areas ("PEAs") and the surrounding areas in CONUS
► Supplement its telemetry, tracking and control ("TT&C") operations to enhance two earth stations located in Hawley, Pennsylvani, ("Hawley"), and Brewster, Washington ("Brewster")
► Begin to consolidate its gateway services (e.g., international feeder link, data, and other services) currently located at other SES gateway locations as well as any customer or user gateway services to Hawley and/or Brewster — these gateway services will operate on an unprotected basis in the 3700-3820 MHz band.
PHASE 2 By December 5, 2023, SES will...
► Relocate all of its CONUS-exclusive commercial services out of the 3700-4000 MHz band
► Make necessary equipment changes on all associated Incumbent Earth Station antennas located in all CONUS PEAs
► Continue TT&C operations in the lower portion of the band on a protected basis at Hawley and Brewster and in the upper portion (4.2 GHz) of the band at SES's other teleports
► Complete gateway consolidation to the Hawley and Brewster sites; the gateway services will operate on an unprotected basis in the 3700-4000 MHz band at Hawley and Brewster.
Based on the current SES plan, there are 196 services in total that are impacted by the C-band repurposing: 114 services on domestic satellites (SES-1, SES-2, SES-3, SES-11, AMC-11, AMC-3) and 82 services on international satellites (SES-4, SES-6, SES-14, NSS-9, NSS-10). SES will be required to perform 111 frequency/satellite moves for services, gateway moves for 68 services, 11 services will require compression/modulation upgrades and 6 mobile services may require frequency moves on the same satellite, should the user determine it is necessary.
SES (and perhaps Intelsat) is making an additional major technology change and using digital compression for its broadcast clients.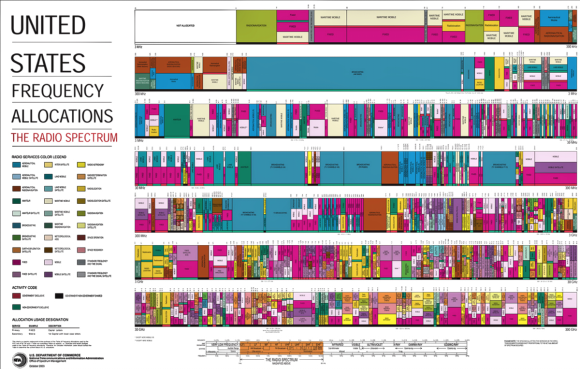 "Specifically, the pre-transition services encoded using MPEG-2 will be upgraded to MPEG-4, which will support same or better service in much less bandwidth. With technology upgrades, the customer's post-transition needs are reduced to only 7. transponders, which will allow those services to continue to be downlinked on a single satellite," stated SES in its FCC submission.
Both SES and Intelsat, starting on December 31, 2020, will submit a quarterly status report that summarizes the status of the firms' clearing efforts. SES, for example, intends to include in each report a list of the Incumbent Earth Stations receiving services from SES that have been fully transitioned pursuant to this Transition Plan.
Telesat, Eutelsat and Claro have also made their plans clear. Telesat, for example, says it will not need an additional satellite and will fit filters to its existing Anik-F1R and Anik-F3 receiving dishes and its craft can continue working.
Claro will rent space from SES on its SES-4 craft and thus continue services into Miami, Florida, for its (Embratel) Star One C1 craft.
Eutelsat said it will need to spend $171 million to clear its C-band frequencies and will order up one new satellite, although its supplier has not yet been specified.
By any measure this is an exciting time for the satellite industry. Of course, the FCC's incentive payments will benefit all the operators as well as the FCC and the US telco sector. The next key date is the scheduled December 8, 2020, auction.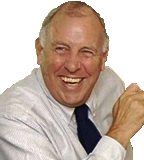 Senior Columnist Chris Forrester is a well-known broadcasting journalist and industry consultant. He reports on all aspects of broadcasting with special emphasis on content, the business of television and emerging applications. He founded Rapid TV News and has edited Interspace and its successor, Inside Satellite TV, since 1996. He also files for Advanced-Television.com.
In November of 1998, Chris was appointed an Associate (professor) of the prestigious Adham Center for Television Journalism, part of the American University in Cairo (AUC), in recognition of his extensive coverage of the Arab media market. Chris is a Senior Contributor to Satnews Publishers.
---