Ariane 5 successfully launches AT&T's T-16 and the Eutelsat 7C satellites
For the company's second launch of the year, Ariane 5 successfully placed two telecommunications satellites, T-16 and EUTELSAT 7C, into geostationary transfer orbit (GTO), from the European spaceport in Kourou (French Guiana).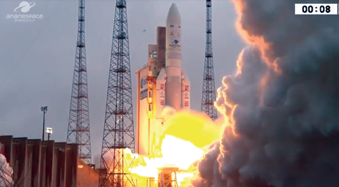 The total performance required of the Ariane 5 launcher was 10,594 kg., of which the two satellites accounted for 9,736 kg. The payloads were injected into an orbit inclined 6 degrees in relation to the equator.
André-Hubert Roussel, the CEO of ArianeGroup, said that each new success of Ariane 5 is a new victory for the thousands of technicians and engineers whose know-how has guaranteed the success of the European heavy launcher on the global commercial market and their independent, sovereign access to space for almost 40 years. The company has just initiated series production of the first 14 Ariane 6 launchers and are actively working on the transition from Ariane 5 to Ariane 6, so each new success is a source of pride and encouragement for ever-higher space ambitions to benefit their customers around the world.
ArianeGroup is the industrial lead contractor for the development and deployment of Ariane 5 and Ariane 6 launchers. The company coordinates an industrial network of more than 600 companies (including 350 SMEs) in 13 European countries.
ArianeGroup oversees the entire industrial supply chain, from performance optimization and the corresponding studies associated with the Ariane 5 to production, from the supply of mission-specific data and software to the marketing of the launcher through Arianespace. This chain includes equipment and structures, engine manufacturing, integration of the various stages and finally launcher integration in French Guiana.
Arianespace's June 20 mission marks the fifth flight in 2019 by its launch vehicle family — which consists of the heavy-lift Ariane 5, medium-size Soyuz and lightweight Vega. It will be the second this year using Ariane 5.
In performing this 104th Ariane 5 mission — the 71st with an Ariane 5 ECA version — Arianespace confirms its full capability in the geostationary launch services market segment.
The T-16 is the 11th satellite to be orbited by Arianespace for AT&T, following SKY Mexico-1 and DIRECTV 15, launched together on an Ariane 5 in May 2015; and SKY Brasil-1, launched in February of 2017.
T-16 was manufactured by Airbus Defence and Space and will provide high-power broadcast services in Ku- and Ka-bands. Being flexible, the spacecraft can be operated from five orbital slots (from 99 degrees West to 119 degrees West) and will cover the continental United States, Alaska, Hawaii and Puerto Rico.
EUTELSAT 7-C will be Eutelsat's 33rd satellite to be launched by Arianespace since the first mission at its service, which deployed EUTELSAT-1 F1 in 1983.
EUTELSAT 7C is a high-power broadcast satellite for markets in Africa, Europe, the Middle East and Turkey. It is equipped with 49 36-Mhz equivalent Ku-band transponders and will be located at Eutelsat's 7 degrees East position. EUTELSAT 7C was built by Maxar Technologies in Palo Alto, California.
www.arianespace.com
---
SSTL-Built FORMOSAT-7 heads into orbit
The successful launch on June 24, 2019, EST of six satellites for the FORMOSAT-7 joint U.S.-Taiwanese weather forecasting constellation marks the start of another SSTL-enabled space mission.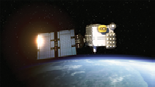 The launch on the SpaceX Falcon Heavy rocket from the Kennedy Space Center was attended by SSTL staff including Managing Director, Sarah Parker. The company congratulated their customers, NSPO in Taiwan, and NOAA in the United States, on the successful launch of their constellation.
FORMOSAT-7, also known as COSMIC-2 in the U.S., is a joint constellation meteorological satellite mission between Taiwan and the United States for observing and monitoring the global meteorology, climate, and ionosphere. In addition to two science payloads for detecting ionospheric data, each of the six satellites in the constellation is carrying an advanced GNSS receiver to low-inclination-angle orbits and will collect atmospheric data at low and mid latitudes to provide sounding data to improve regional and global weather forecasting. The processed data will be provided by two data processing centers located in Taiwan and USA.
www.sstl.co.uk
---
Viasat-3 to be the first commercial launch for the Ariane 64
Viasat Inc. and Arianespace have modified the original ViaSat-3 satellite launch contract, signed in 2016 — under the new agreement, the two companies agreed to move the ViaSat-3 satellite from an Ariane 5 ECA launch vehicle to the next-generation Ariane 64 (A64) launcher.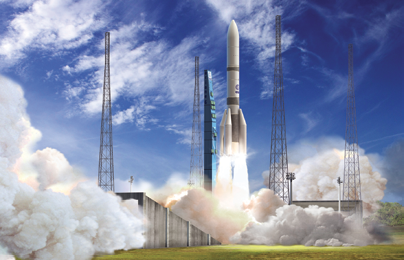 Artistic rendition of the Arianespace nexgen Ariane-64 launch vehicle. Image is courtesy of ESA.
With this contract, Viasat will become the first commercial customer to commit to launch on the A64.
The A64 launcher is expected to maintain launch quality and reliability, but with added mission effectiveness, efficiency and flexibility.
The A64 launch vehicle will feature a modular configuration based on core stages powered by lower and upper liquid propellant modules, which is supplemented by four solid rocket motors.
The A64's configuration will also provide added performance to deliver a ViaSat-3 satellite into a high-energy geostationary transfer orbit where it can begin on-orbit operations faster.
Moving to the A64 launcher completes Viasat's integrated launch strategy, which is designed to bring an on-time launch to all of the ViaSat-3 spacecraft through launch vehicle diversity and an integrated approach to launch planning.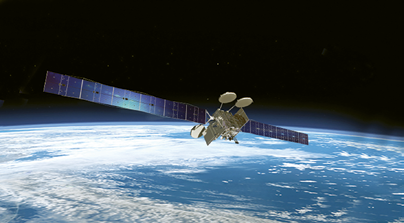 Arianespace will launch the ViaSat-3 satellite from the Guiana Space
Center, Europe's Spaceport in Kourou, French Guiana. Artistic rendition
of the Viasat-3 satellite.
Viasat will announce specific mission assignments for each of the contracted launch vehicles at a later date.
The ViaSat-3 class of Ka-band satellites is expected to provide unprecedented capabilities in terms of service speed and flexibility for a satellite platform.
The first two satellites will focus on the Americas and on Europe, Middle East and Africa (EMEA), respectively, with the third
satellite planned for the APAC region, completing Viasat's global service coverage.
Each ViaSat-3 class satellite is expected to deliver more than 1-Terabit per second of network capacity, and to leverage high levels of flexibility to dynamically direct capacity to where customers are located.
Dave Ryan, president, Space and Commercial Networks at Viasat commented that the company has a long-standing partnership with Arianespace and trusts that their A64 launcher will allow Viasat to meet key business objectives, which include bringing high-speed, high-quality broadband connectivity to end-users, worldwide.
Arianespace Chief Executive Officer, Stéphane Israël, said the company is honored that Viasat initially chose Arianespace for one of their ViaSat-3 launches and has now evolved the program, enabling them to be the first commercial launch customer to commit to fly on the company's powerful Ariane 64 launcher.
www.viasat.com/
www.arianespace.com/
---
Successful demos of 5G over satellite by the SaT5G project
The SaT5G project has announced the operation of a number of successful demonstrations of 5G over satellite at the 2019 European Conference on Networks and Communications (EuCNC 2019) in Valencia, Spain.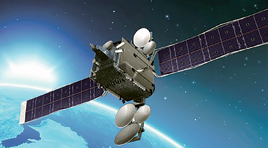 Artistic rendition of Avanti's Hylas-4 GEO satellite.
The project vision is to develop a cost-effective plug-and-play SATCOM solution for 5G to enable mobile operators and network vendors to accelerate 5G deployment across all geographies and multiple use cases while at the same time creating new and growing market opportunities for SATCOM industry stakeholders.
The demonstration showcases a network that integrates 5G over parallel satellite and terrestrial delivery paths to provide enhanced Quality of Experience (QoE) for users consuming 4K video content. The innovative demonstration highlights how a Multi-access Edge Computing (MEC) proxy can incorporate bit-rate adaptation, link selection and enhance layered video streams for future satellite and terrestrial integrated networks.
The demonstration is undertaken in partnership with Avanti's high-throughput HYLAS 4 GEO satellite capacity, University of Surrey's 5G Innovation Centre testbed network and VT iDirect's 5G-enabled satellite hub platform and satellite terminals
The demonstration showcases over-the-air satellite multicast technology for the delivery of live channels using an MEC platform for Content Delivery Network (CDN) integration with efficient edge content delivery.

The demonstration highlights the benefits, in terms of bandwidth efficiency and delivery cost, of using a satellite-enabled link for provisioning live content in a 5G system.
The demonstration is undertaken in partnership with Avanti's high-throughput HYLAS 4 GEO satellite capacity, Broadpeak's CDN, University of Surrey's 5G Innovation Centre testbed network and VT iDirect's 5G-enabled satellite hub platform and satellite terminals.
The demonstration showcases 5G technology aboard aircraft, leveraging virtualized services for content distribution.
An integrated approach for the delivery of 5G connectivity services based on a Medium Earth Orbit (MEO) SATCOM solution will be introduced. The innovation targets the next-generation inflight entertainment services to passengers and connectivity solutions for airplanes with a combined satellite and terrestrial 5G network.
The demonstration is undertaken in partnership with the Safran (Zodiac Inflight Innovations) virtualized A320 airplane cabin mock-up and connectivity infrastructure, Broadpeak's content delivery platform, Gilat Satellite Networks' Taurus VSAT unit and virtualized satellite hub, i2CAT's terrestrial satellite resource coordinator (TALENT), Quortus' mobile
network core, and SES' low-latency high-throughput O3b MEO satellite constellation.
Using a satellite emulator testbed, TNO demonstrates local access using an established satellite and terrestrial backhaul link with User Plane Function (UPF) located at a MEC node for content delivery. The UPF in the MEC node is used to handle requests for the local content with the ability to optimally select between satellite or terrestrial links depending on available capacity, network policy, link performance and the type of end-user profile. The innovation lies with the ability to set up connections for downloading content with the DASH Enabled Network Element (DANE) collocated with UPF, which can now handle both satellite and terrestrial links simultaneously.
The University of Oulu demonstration jointly defined with Thales Alenia Space shows that with some modifications, it is possible to apply 5G NR over satellite links for future satellite systems. As listed in 3GPP TR 38.811, the key issues that need addressing include higher latency and increased Doppler shift. The demo concentrates on the uplink random access process.
The Ekinops demonstration showcases how a standard 5G User Equipment (UE) leverages a hybrid backhaul and validates the performance required by 5G services, including packet loss mitigation and remediation. The solution provides tangible measurements of very high QoE achieved by combining satellite-terrestrial links bandwidths for fast upload and download traffic and the terrestrial link low latency for interactive traffic. The demonstrated 5G-hybrid backhaul relies on state-of-the-art multipath protocols and shows satellite as a viable backhaul link for 5G service.
Please visit the SaT5G website link for a detailed description of the demonstrations.
Indran Sivarajah, Project Director of SaT5G, said SaT5G is a bold project and the goal is to ensure that with the roll-out of 5G networks, the gap between the unconnected and connected world does not widen any further. For mobile operators, these underserved markets are seen as key to accessing the last remaining 1.6 billion subscribers and SATCOMs are well positioned to play a major role here. We want to build an attractive plug-and-play SATCOM solution with 5G for telcos and network vendors to accelerate 5G deployment and at the same time creating new and growing market opportunities for the SATCOM industry.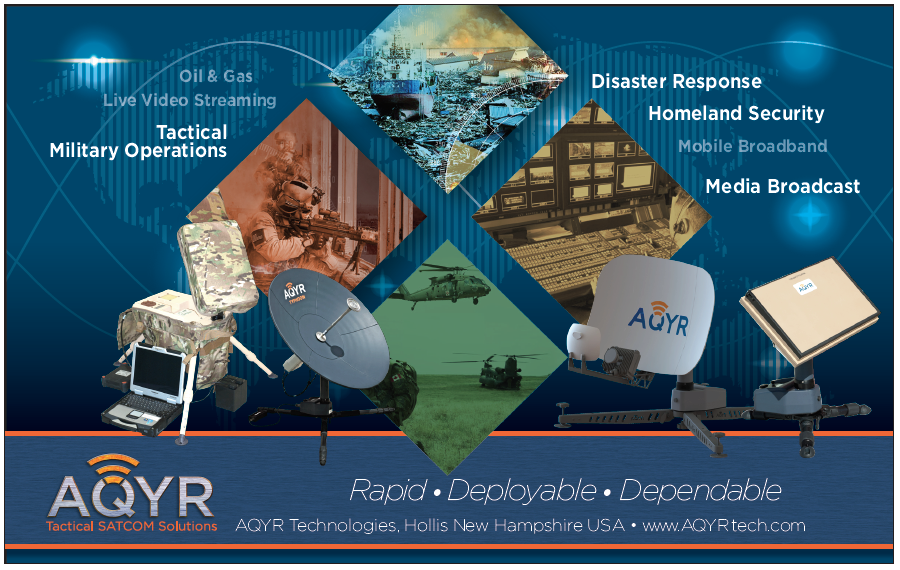 Mike Fitch, Technical Manager of SaT5G said: that SaT5G is about integrating satellite links with heavy emphasis on standardization to allow trusted operation and to facilitate industry adoption. The focus is on eMBB to fixed and mobile networks, including support for orchestration and slicing, with the satellite links providing backhaul connectivity either alone or in parallel (multi-link) connectivity with terrestrial links. Innovations from the project include satellite modem VNFs, business process modeling including brokers, and improved multicast and multi-link algorithms for use with satellite.
www.eucnc.eu/
www.avantiplc.com/
www.surrey.ac.uk/5gic
www.idirect.net/
www.zodiacaerospace.com/
www.gilat.com/
www.tno.nl/en/
www.oulu.fi/yliopisto/
www.thalesgroup.com/en/global/activities/space
www.ekinops.com/
---
Lacuna Space and Semtech successfully demo satellite IoT technology
Lacuna Space has successfully concluded their first phase of testing in the company's mission to provide complete global coverage for LoRa® devices and wireless radio frequency technology (LoRa Technology) to anywhere in the world, no matter how remote.

Lacuna Space is engaged in satellite IoT connectivity, with low-cost and high-scalability as its fundamental tenets in its system design. Over the course of the last two years, Lacuna has been collaborating with Semtech Corporation to extend LoRa Technology connectivity to the entire world.
Lacuna Space has been developing satellite gateways and working with Semtech to evolve LoRa Technology to enable direct communication from LoRa-based devices to satellite gateways using the LoRaWAN® protocol.
Lacuna's first satellite launch of the year was on April 1, 2019, from the Satish Dhawan Space Center in India, where the satellite shared a ride to LEO with EMISAT and 27 additional satellites.
Lacuna's LoRa-based Space Gateway was hosted on a 6U cubesat satellite provided by Nano Avionics and Lacuna has revealed that the satellite and the Space Gateway are out-performing expectations during the initial commissioning phase.
An additional three satellites are set for launch in Q3 and Q4 of this year to complete Lacuna's initial demo constellation.
Lacuna is aiming to be ready to perform more extensive demonstrations with a select group of potential users toward the end of the year, thanks to part funding and support from the European Space Agency and UK Space Agency.
Rob Spurrett, the Lacuna Space CEO, remarked that the company is eager to get these next satellites launched so the firm can increase the performance of the whole system, including the fine tuning of this novel, adaptive, radio approach that enables Lacuna Space to detect tiny signals directly from battery powered sensors in remote locations.
Nicolas Sornin, CTO, Semtech, added Lacuna's expanding LoRaWAN-based network coverage to the most remote regions is an incredible technical achievement. More users will develop LoRa-based applications that need long range, low power and flexible capabilities.
lacuna.space/
www.semtech.com/lora
---
Boeing's Space and Launch Division HQ on the move...
To strengthen collaboration and integration across its portfolio, Boeing is relocating the headquarters of its Space and Launch division to Titusville, on Florida's revitalized Space Coast.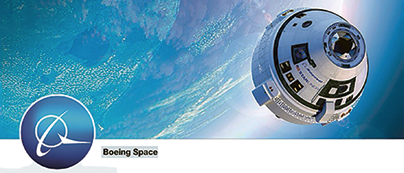 Space and Launch, a division of Boeing Defense, Space & Security, currently has its headquarters in Arlington, Virginia.
In announcing the relocation of the headquarters to a region that includes Kennedy Space Center, Cape Canaveral Air Force Station and Patrick Air Force Base, Boeing leaders said the timing of the move makes sense for multiple reasons:
• The Boeing-built X-37B uncrewed, reusable space vehicle continues to perform record-setting, long-duration missions for the U.S. Air Force.
• Boeing's satellite programs anticipate increased tempo in local payload processing and launch activity.
• The company is enhancing its focus on mission integration and launch system operations in collaboration with Air Force partners nearby at Cape Canaveral Air Force Station and the 45th Space Wing at Patrick Air Force Base, and strengthening relationships with Air Force Space Command in Colorado and Vandenberg Air Force Base in California.
• The CST-100 Starliner commercial spacecraft is preparing for two flight tests later this year ahead of operational missions to the International Space Station beginning in 2020.
• Boeing continues to achieve milestones toward delivery of the first two core stages of the world's most powerful rocket, NASA's Space Launch System, for uncrewed and crewed missions to the Moon's orbit leading to the first crewed lunar surface landing in 50 years, and then to Mars.
• The International Space Station is poised to follow NASA's road map for commercialization of LEO, even as this national laboratory is positioned for continued scientific and technological research until at least 2030.
• The United Launch Alliance joint venture continues to meet vital launch needs for national security, scientific and telecommunications missions through its Atlas and Delta rockets, while entering the formal qualification phase for the new Vulcan Centaur launch vehicle.
• Boeing is studying and advancing future space capabilities in collaboration with the Defense Advanced Research ProjectsvAgency (DARPA).
The headquarters move will have no impact on Boeing's space operations in other states, including California, Texas, Alabama, Colorado and Louisiana.
Boeing Defense, Space and Security President and CEO Leanne Caret said that the company is looking to the future and this storied Florida space community will be the center of gravity for Boeing's space programs as the firm continues to build the company's leadership beyond gravity.
Caret noted that the time is right for them to locate the Boeing space headquarters where so much of the nation's space history was made over the past six decades and where so much history awaits.
Jim Chilton, SVP of Space and Launch, added that Boeing has been a dominant presence on the Space Coast for six decades and this move represents a continuation of that legacy and future commitment.
He remarked that expanding the Boeing presence on the Space Coast brings tremendous value for the company's commercial and government space programs through focused leadership, strategic investment, customer proximity and additional contributions to the vitality of the region.
Chilton added that Boeing will continue to be a dynamic space presence in its existing locations, contributing to the vitality of those aerospace hubs, collaborating with our regional partners, and inspiring future generations of space engineers, technicians and innovators.
twitter.com/BoeingSpace
---
GomSpace to develop 2Gen space system
GomSpace A/S has been selected by UnseenLabs SAS to develop and deliver their second-generation space system.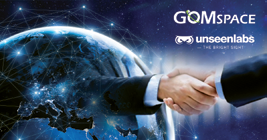 The collaboration will result in further enhancement of the capabilities to provide disruptive spectrum monitoring services from space, featuring unique hardware and software.
Under the ATP, signed at the Paris Airshow, the parties will complete work to define the scope and specifications of the new space system to be finally contracted within the fall of 2019.
Niels Buus, the CEO of GomSpace, said the company is excited to continue the collaboration with UnseenLabs. With this project, the firm believes that UnseenLabs will continue to provide a disruptive capacity to their customers for maritime surveillance services provided by LEO satellites.

Jonathan Galic, CEO and Co-Founder of UnseenLabs, remarked that working with GomSpace during the development of the company's first-generation space system has convinced the firm that they are the correct choice for the firm's continued roadmap.
Galic added that GomSpace's flight proven hardware and software products are a major source of confidence, allowing UnseenLabs to focus the company's expertise on payloads, missions and services.
gomspace.com/
unseenlabs.space
---