Half a century after Britain's first successful orbital launch from Australia, Scottish company Skyrora is working to resurrect the UK's launcher capability from the firm's headquarters in Edinburgh, Scotland.

Skyrora aims to achieve one of the first-ever orbital launches from western Europe, with an innovative launch vehicle that is currently undergoing design, manufacture and testing at various UK locations.
The company has already started a program of small test launches to evaluate equipment and accumulate operational experience, in parallel with full-scale engine testing for its orbital vehicle. The current development and test phase is planned to lead to a liquid-fueled sub-orbital sounding rocket, followed by a fully-fledged orbital vehicle.
Skyrora intends to provide launch services aimed at the burgeoning market for smallsats of up to 350 kg. that are seeking access to Polar and Sun-Synchronous Orbits (SSO). The company's orbital vehicle will launch from the north of Scotland, although the company has yet to commit to a specific location among the three current contender sites where development work is well underway in the Highlands and Islands region.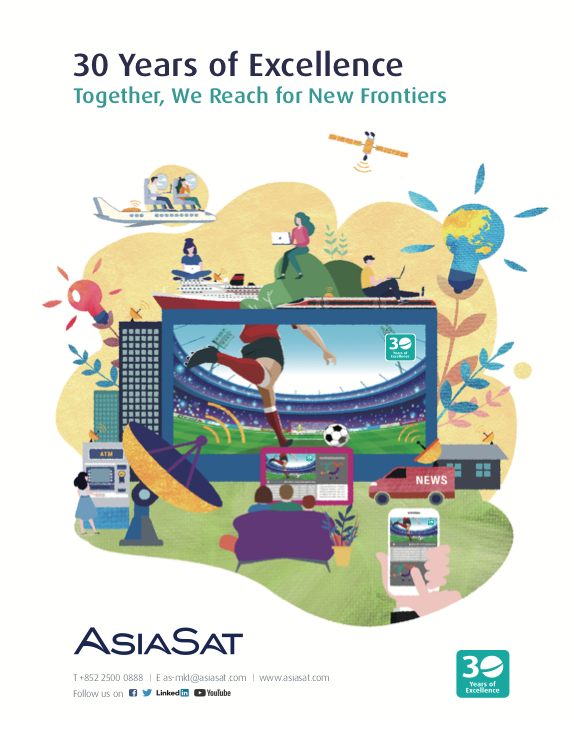 "At the moment we are fully focused on doing what it takes to enable us to conduct regular orbital launches from the UK, ensuring that once a launch site is ready, we will be too," said Daniel Smith, Skyrora's Business Development Director.
The first components were successfully flight-tested in northern Scotland in the fall of 2018. At the end of last year, the Skyrora XL rocket's 3D printed third-stage LEO engine, assembled by Frazer-Nash Engineering in Petersfield, England, was unveiled, and has now been test-fired several times in Cornwall. Plans are advancing to build an engine test facility in Cockenzie, a town on Scotland's North Sea coast, that can cater for the vehicle's larger engines.
"We have already manufactured real flight hardware and have now test-fired the engine," said Smith. "Our LEO third stage engine test in July was the first liquid engine test conducted by a British satellite launcher to take place in the UK since Black Arrow around 50 years ago. Then our larger Skyforce engine tests will continue development on a larger scale. It's an exciting time for Skyrora and for the UK's fast-growing space sector."
The company's overall designs for the first domestic British satellite launch vehicle in half a century have already been put into the public domain and feature a rarely-used fuel/oxidizer combination.
The vehicle will burn kerosene as fuel with High-test Peroxide (HTP, a form of hydrogen peroxide) as oxidizer. This propellant combination has interesting parallels with Great Britain's original Black Arrow orbital rocket from 1971.
Skyrora owes much to the legacy of Britain's earlier rocket programs that achieved orbit from Australia's Woomera launch site and frequently exceeded the boundary of space, defined by the Kármán Line at 100 km., or 62 miles altitude, from Scotland's Outer Hebrides islands.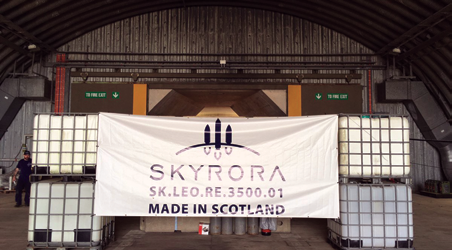 British national Ukrainian-born Volodymyr Levykin founded Skyrora in 2017 and assembled the key components to build
a UK-based launcher business. His team of engineers started by studying Britain's past rocket programs, the Black Arrow orbital launcher and the Skylark and Petrel sounding rockets. They have since built upon those proven, albeit dated, technologies with modern innovations.
Technology adopted by the company includes additive manufacturing, better known as metal 3D printing, and use of advanced materials to create prototype engines and real flight components.
Skyrora has a team of more than 100 personnel active in facilities across Europe, including its headquarters on Princes Street in Edinburgh and a production facility a few miles south of Scotland's capital, a co-working center in Ukraine and a newly opened R&D center in Slovakia.
The company also has secured access to test their innovative re-ignitable upper stage LEO engine at the former Bloodhound SSC facility at Cornwall Airport Newquay, in southern England, allowing them to move forward while the Cockenzie planning application is progressed.
"We are in the most exciting age of space exploration since the so-called Space Race of the 1950s and 60s," said Skyrora's Daniel Smith. He points to the constant stream of announcements about developments in the global 'new space' sector, and the hard statistics on the growth of the industry which back these up.
Market studies identify an extensive backlog of smallsats seeking a ride to orbit. With the explosion of cubesats and other smallsats, more than 10,000 such payloads are expected to be seeking to purchase launch services over the next 10 years. This is the fast-expanding opportunity which Skyrora sees as underpinning its commercial offering, and the core message it is conveying to potential investors since the company opened its Seed round last year, after they reached the final stage of the Seraphim accelerator program. They already have 20 Letters of Intent signed by prospective customers, including the likes of Clyde Space, Alba Orbital, QinetiQ and Innovative Space Logistics BV.
Skyrora identifies its 'unique selling point' as responsive launch opportunities from a readily accessible site in a stable part of western Europe with a modern technological economy, Scotland.
The propellant combination of kerosene and distilled hydrogen peroxide removes the usual requirement for cryogenics. The obvious advantage is that the launcher can be kept fueled and ready to go, as the vehicle resides at ambient temperatures on the launch pad. There is no risk of evaporating fuel, frozen components or other low temperature damage from cryogenic fluids such as LOx.
The company acknowledges that in the north of Scotland, as at existing northerly European sounding rocket sites in Sweden and Norway, the weather can often be a challenge.
"Wind is the main issue and it will surely delay launches from Scotland on occasion," Smith points out. "Having vehicles that are maintained and ready to go at the next available weather window offers an unrivaled capability to respond quickly to clients' needs."

Responsive Access Ltd. is a separate commercial entity established by Skyrora to act as a booking system for the payloads carried by the company and by other micro-launchers. The service offers smallsat customers a 'one-stop-shop' to speed the process of launching spacecraft into orbit, from refining the normally slow contractual processes to providing practical help with issues like arranging testing facilities and insurance coverage.
Vehicle development is the current, major priority for Skyrora. Activity is spread between R&D for the orbital XL vehicle and carrying out a series of suborbital test missions from the UK.
The next two suborbital vehicles are built and awaiting launch permission and site selection. A liquid-fueled, sub-orbital sounding rocket capable of carrying 100 kg. to 100 km. is then planned, evaluating a high proportion of the components intended for the larger follow-on orbital rocket.
The first of those components were successfully flight tested in northern Scotland in August of 2018 and again in July of 2019. Those demonstration launches of a small, solid-fuel rocket named the Skylark Nano evaluated electronics, telemetry downlink, tracking, a payload separation device and on-board video cameras.
Skyrora is now working on the Skylark Micro, which is taller than the twice-launched Skylark Nano, at almost 4 meters. This is a two-stage vehicle with two solid propellant motors and will be able to reach an altitude 40 km., traveling at Mach 4, setting the UK non-military speed record as well as providing the opportunity to further test telemetry, tracking, video relay and recovery under conditions closer to that planned for the large liquid-fueled Skyrora SK-1 sub-orbital sounding rocket.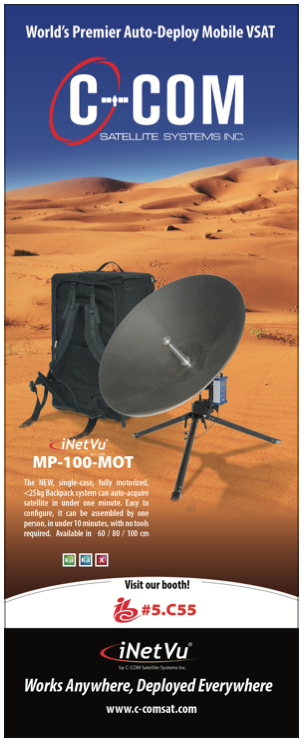 Current flight test work is also concentrating on preparing the Skyrora Hybrid rocket (abbreviated to SkyHy), a larger two-stage test vehicle built in collaboration with renowned rocket engineer Richard M Brown. SkyHy stands 6 meters tall, 0.2 meters in diameter and is fueled by HTPB (hydroxyl terminated polybutadiene), more commonly known as solid rubber, and HTP (high-test peroxide) as oxidizer.
SkyHy is capable of exceeding the Kármán Line and officially entering outer space. For operational flights, depending on what payload options are exercised, its altitude may be curtailed to about 90 km.
Smith said, "The Skyrora Hybrid is British-built and ready to go. We're very excited about it, as it's the first chance for our team to work with the oxidizer we've been distilling. It also brings the opportunity for Skyrora to become the first private company to reach space from the UK."
Forthcoming flights of such rockets from temporary launch pads in the Scottish Highlands will continue the test program with more sophisticated components and systems intended for use on the larger vehicles, and with increased payload sizes.
As well as the flown hardware, the launch team will also evaluate ground control systems, trajectory calculations and working relationships with the relevant authorities, including the UK's Civil Aviation Authority (CAA) and the UK Space Agency (UKSA). The SkyHy's use of HTP (a concentrated solution of hydrogen peroxide) will also test the company's procedures for handling liquid propellants.
The Skyrora SK-1 is the company's sub-orbital launch vehicle, or sounding rocket, that permits testing of more complex systems for the larger XL orbital rocket, but will also be capable of offering commercial space services in its own right. The SK-1 is 10.9 meters tall with a diameter of 71 cm. and weighs 2.3 tons when fully fueled at launch.
The launch vehicle's main engine, Skyforce, burns hydrogen peroxide and kerosene propellants and produces a thrust of 30kN. The four main engine components have been built by additive manufacturing (metal 3D printing), which was then followed by final machining and assembly.
The SK-1 will be fully capable of attaining the lower thermosphere and reaching the Kármán Line. The first launch is planned for within the next year, potentially from Scotland.
Once the SK-1 has fulfilled its role as test bed for the orbital XL vehicle, there is the option for the unit to be fully commercialized. In this case, it would become a 'spin-off' business to cater for the sounding rocket market. In that role, the SK-1 will carry payloads for commercial or scientific microgravity research, of up to 100 kg. and will offer several minutes of weightlessness for experiments, followed by descent, parachute landing and intact recovery of the payload, if required.
Skyrora's orbital launch vehicle is the much more ambitious Skyrora XL, which aims to cater to the burgeoning smallsat market, both domestically and internationally. The XL is still undergoing final design, and will be about 24.1 meters tall and 2.2 meters in diameter and will be capable of lofting payloads of about 350 kg. into near-polar and SSO orbits at around 500 km. altitude.
The XL is a three-stage launch vehicle. The first stage is powered by nine Skyforce Turbo engines, each of 70kN (about 7 tons) thrust at sea level, burning HTP (hydrogen peroxide) and kerosene as propellants, which, again, perpetuates the legacy of the UK's original Black Arrow orbital rocket from 1971. One vacuum version of the same Skyforce Turbo engine powers the XL's second stage and achieves a higher vacuum performance at 85kN (8.5 tons) thrust.
This engine will be tested at the company's own facility in Scotland, where a tailored test stand will hold the engine in a vertical position, so it fires downwards to a flame deflector and then exhausts horizontally. First firings are expected to begin once the current planning application is complete.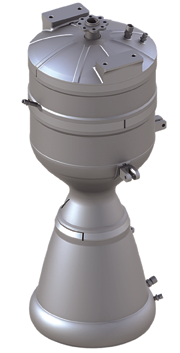 Skyrora's 3D-printed Skyforce
rocket engine.
The third stage of the XL starts up following depletion of the second stage and carries the payload into orbit. It is powered by one of the LEO engines being trialed in Cornwall, each with 3.5kN thrust (about one-third of a ton). This stage also uses the propellants hydrogen peroxide and kerosene and is re-ignitable to permit the placement of satellites into different orbits. A payload adaptor and a split nose fairing, jettisoned when out of the atmosphere, complete the stack.
The first LEO engine unit has been assembled by Frazer-Nash Engineering in Petersfield, Hampshire, and this is the engine that has been test fired in Cornwall. Then testing in Scotland of the more powerful Skyforce engine for the first and second stages of XL will complete the picture.
Skyrora's corporate mission is fully compatible with the space ambitions of the UK government for national access-to-space capability announced in 2017, which include a new UK vertical orbital launch site in northern Scotland.
In addition to the UK government-funded site under development at the Moine peninsula in Sutherland, other launch facilities are being developed in the Shetland Islands and the Outer Hebrides. Skyrora has now put out a Request for Proposals (RFP) as part of its ongoing selection process for a suitable launch site for all of the remaining test missions.
Educational outreach is a key part of Skyrora's approach to building knowledge, enterprise and enthusiasm about space in Scotland, helping to motivate a new generation of space sector personnel. Some of the younger Skyrora team members are STEM Ambassadors in their spare time, volunteers helping to promote careers in science, technology, engineering and mathematics. They became aware of the existence in the Australian desert of the abandoned first stage of Black Arrow R3, the only successful orbital launch by the UK. Its historic connection with the company's efforts to create Britain's first new orbital rocket in almost 50 years was immediately realized — both vehicles having been designed to use the same propellants.
They explored the idea of bringing the wrecked stage back to the UK to contribute to the STEM educational agenda and to accord proper recognition to the historical achievement of Black Arrow back in 1971. After considerable research and negotiation, Skyrora acquired the battered stage from the remote Outback community of William Creek, where it lay in a small park for three decades.
Two members of the original Black Arrow engineering team from the Isle of Wight, where Black Arrow was developed and tested, were present to witness its unveiling near Edinburgh, along with 120 high-profile members of the UK space industry from the public and private sectors.
Scotland has long occupied a central position in Great Britain's space industry, with nearly 20 percent of all UK space sector jobs, despite having only about 8% of the UK population. More satellites are being built in Glasgow than at any other European location, with innovative companies such as Clyde Space and Alba Orbital based there.
Overall, Scotland had 130 space organizations recorded in 2018, a 27 percent increase over the previous period. They are generating a combined income of £140 million and Scotland's Innovation Minister Ivan McKee predicts that this small nation's space sector could be worth £4 billion by 2030.
On being part of Scotland's growing space presence, Smith said, "Scotland is completely behind the commercial space movement and it's inspiring for us to see the growth and ambition being shown here. We're proud to be part of the Scottish Space Leadership Council too, which has played an important role in bringing many organizations together to collaborate on key issues."
Skyrora displayed its plans and equipment at the 16th RISpace (Reinventing Space) Conference and Exhibition in London in 2018. The company will do so again at UK Space Conference in Newport, Wales, in September, at the 70th International Astronautical Congress (IAC) in Washington DC in October and at RISpace 2019 the following month in Belfast, Northern Ireland.
www.skyrora.com
Ken MacTaggart, Ph.D., FBIS, is a writer on spaceflight for the Daily Telegraph (London), SpaceFlight magazine (BIS, UK), and is the author of "Haynes Astronaut Manual" and the co-editor of NASA History Office's "Apollo 11 Flight Journal." He may be contacted at ken@wyvis.com.
---