Payload Meetings for EarthCARE
At the Airbus Satellite Center in Friedrichshafen, introductions took place when the European Space Agency met JAXA's payload for the first time.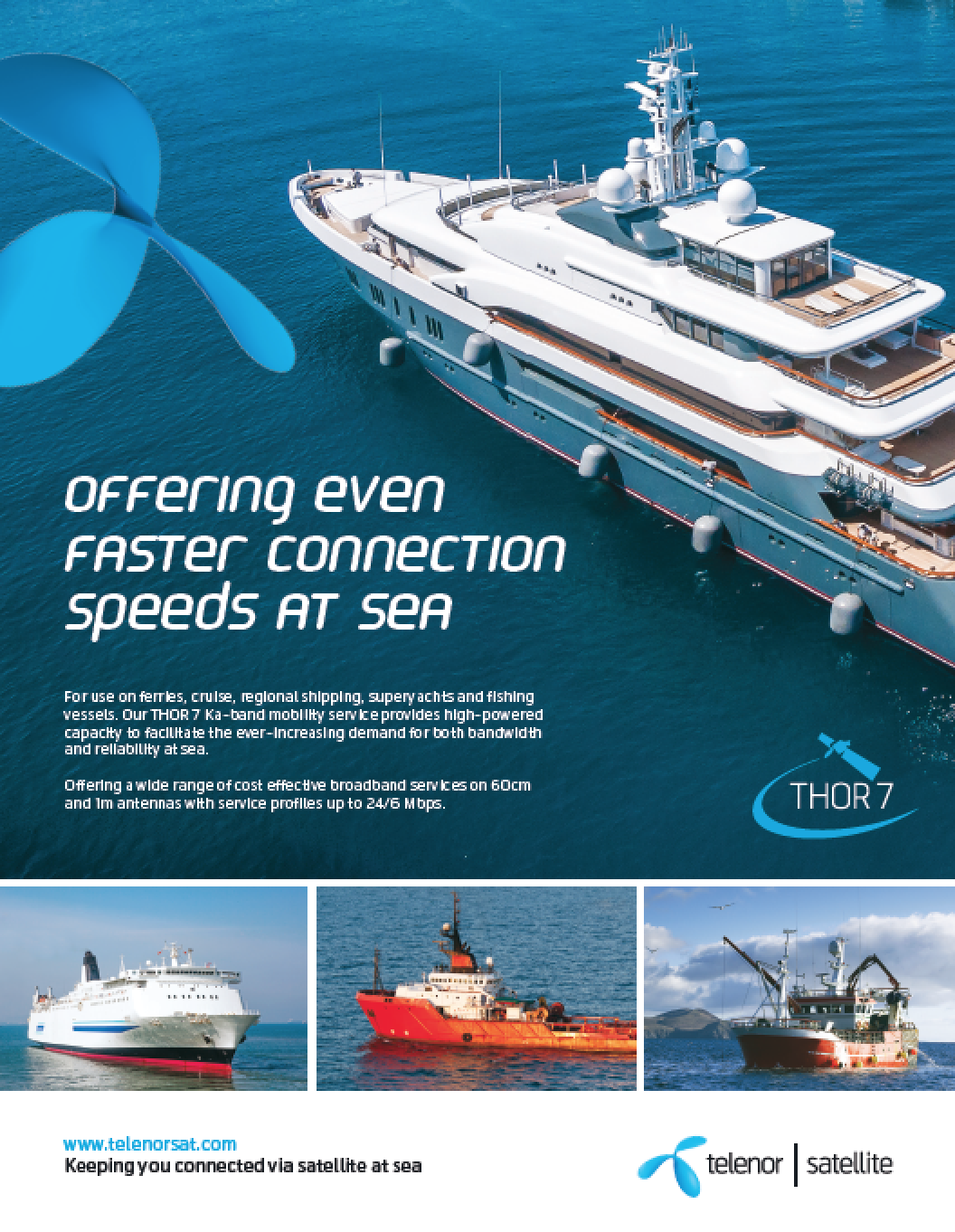 The ESA's EarthCARE mission will be using JAXA's Cloud Profiling Radar (CPR), and so (JAXA) handed over the instrument to ESA in the German facility. Airbus is ESA's prime contractor to develop and build the EarthCARE satellite.
EarthCARE will collect global simultaneous observations of cloud and aerosol profiles together with solar and thermal radiation and will include these parameters in numerical weather and climate models.
In the coming weeks, JAXA and ESA teams will run final checks on the instrument before giving a "green light" to the Airbus project team to integrate it with the spacecraft. Once assembled on EarthCARE, it will be tested intensively for several weeks. Then the instrument will be handed back to JAXA for further adjustments before its final integration next year.
Due for launch in 2019, EarthCARE will advance the understanding of the role that clouds and aerosols play in reflecting incident solar radiation back to space and trapping infrared radiation emitted from Earth's surface. Energy in the atmosphere is balance between incoming light from the Sun, which heats Earth, and outgoing thermal radiation, which cools Earth.
Clouds and, to less extent, aerosols reflect incident solar light back out to space, but they also trap outgoing infrared light. This leads to a net effect of either cooling or heating of the planet. In addition, aerosols influence the life cycle of clouds, and so contribute indirectly to their radiative effect.
The CPR instrument is one of four instruments to be integrated on the EarthCARE satellite. This high power millimeter-wave radar will measure the vertical profiles of cloud structures (water / ice content).
---
Eight Launches Planned by Japan
A recent story in the Nikkei Asian Review online publication indicates that the number of rockets Japan will launch for its key space projects will total a record figure of eight during fiscal 2017.
The increase in the number of launches by the government's Japan Aerospace Exploration Agency, or JAXA, and Mitsubishi Electric comes as the country becomes capable of independently launching rockets of all sizes.
It also coincides with a project to launch satellites to form a Japanese global positioning system, which gets underway in earnest this year.
The Japanese government plans to further shorten the intervals between launches in response to growing business demand for satellites for use in GPS services and aerial imaging.
The previous high for missions carrying satellites or unmanned spacecraft was six in fiscal 2016, while five were launched in fiscal 2014.
The average number was about three for the 10 years to the end of calendar 2015. If things go as planned, Japan will renew the record for the second straight year in fiscal 2017.
JAXA plans to launch the 34th of its mainstay H-IIA rocket series from the Tanegashima Space Center in the southern prefecture of Kagoshima on June 1. The launch vehicle will transport the second quasi-zenith satellite Michibiki, use of which will gather pace in fiscal 2017 as part of Japan's GPS project.
The government plans to launch two more quasi-zenith satellites by the end of fiscal 2017, as well as the Optical 6 information gathering satellite, which will, in effect, serve as a spy satellite.
Including another mission for a climate-change observing satellite, a total of five launches are planned, all from aboard
the H-IIA.
In addition, the seventh large-scale H-IIB rocket will carry Kounotori, an unmanned transport vehicle, to the International Space Station, and the third of the smaller Epsilon rockets will take Asnaro-2, an Earth-observing satellite, into orbit.
The government is also considering launching the ultra-small SS-520, touted as the smallest vehicle capable of launching a satellite.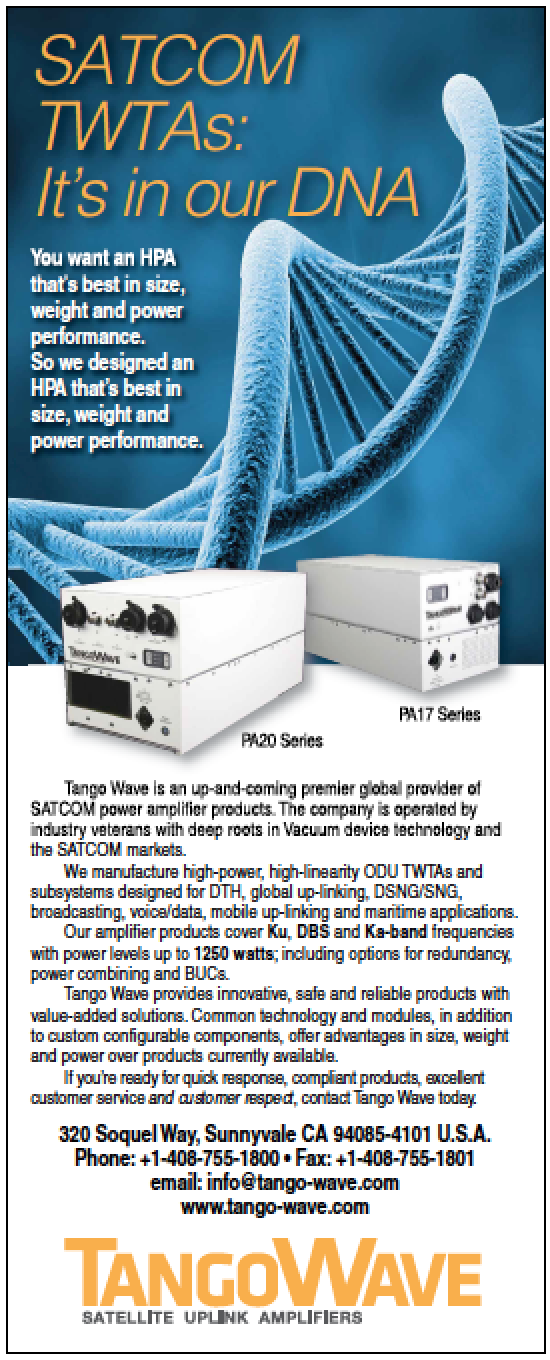 Officials believe Japan will need at least six launches a year to provide viable support for the country's space business' growth. However, that figure remains far behind the 30 launched by Russia and about 20 by the USA. China also recently launched more than 10 rockets in a single year.
jaxa.jp/
---
Co-Branding by ABS Results in the Birth of MongolSat-1
ABS has announced that 12 x 27 MHz of payload on ABS-2A will be co-branded as the MongolSat-1 satellite, dedicated to the Mongolia market.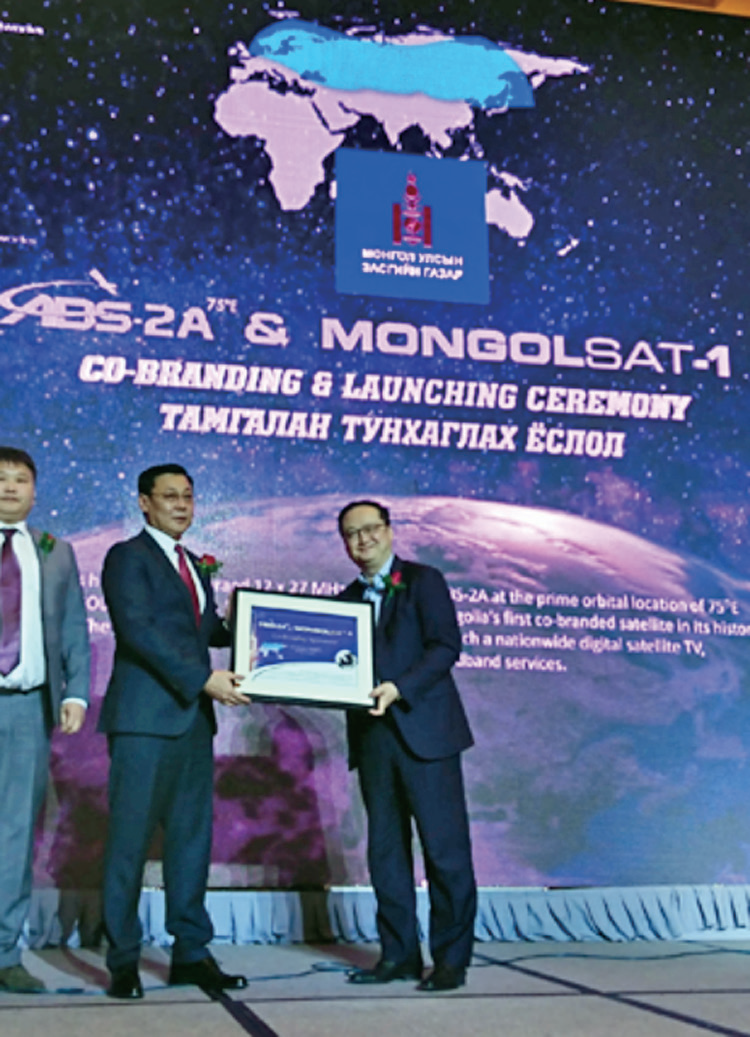 In attendance at this historic event were Mr. Erdenebat Jargaltulga, Prime Minister of Mongolia, and Mr. Enkhbold Miyegombo, Chairman of the State Great Hural (Parliament) of Mongolia. They accepted a token of appreciation from Mr. Tom Choi, CEO of ABS, in honor of the event.
MongolSat-1 represents the country of Mongolia's first co-branded satellite payload in its history.
The 12x27 MHz channel satellite capacity of MongolSat-1 will be used exclusively to launch a free, nationwide, digital satellite TV service, telecommunications and broadband services.
The new services will be available throughout the vast geography of Mongolia.
At the ceremony, ABS' CEO Tom Choi stated that the company's goal is to deliver extremely affordable satellite services that benefit the entire society of Mongolia.
FYI, earlier this year, the CEO of the company, Mr. Tom Choi, was inducted into the Society of Satellite Professional's (SSPI) Satellite Hall of Fame. He was recognized for invaluable contributions to the advancement of technology and in helping to build the political and commercial foundations of the industry. He was one of four inductees selected by SSPI for this honor.
www.absatellite.com
---
Thales Alenia Space Completes South Korea's GEO-KOMPSAT 2 Panels
Thales Alenia Space has sent South Korea the third of three panels that make up the communications payloads on the two GEO-KOMPSAT-2 satellites being built by Korea Aerospace Research Institute (KARI).
This last panel will be integrated in the GK2B satellite and follows the two panels already delivered by the company at the end of last year for the GK2A satellite.
GEO-KOMPSAT-2 (Geostationary Earth Orbit Korea Multi-Purpose Satellite) is a major South Korean space program that provides critical meteorological, oceanographic and environmental data for both government bodies and private end-users.
The program is comprised of two satellites, GK2A and GK2B, each weighing around 3.5 tons, to be located at 128.2 degrees East in geostationary orbit. The two satellites are scheduled for launch in 2018 and 2019.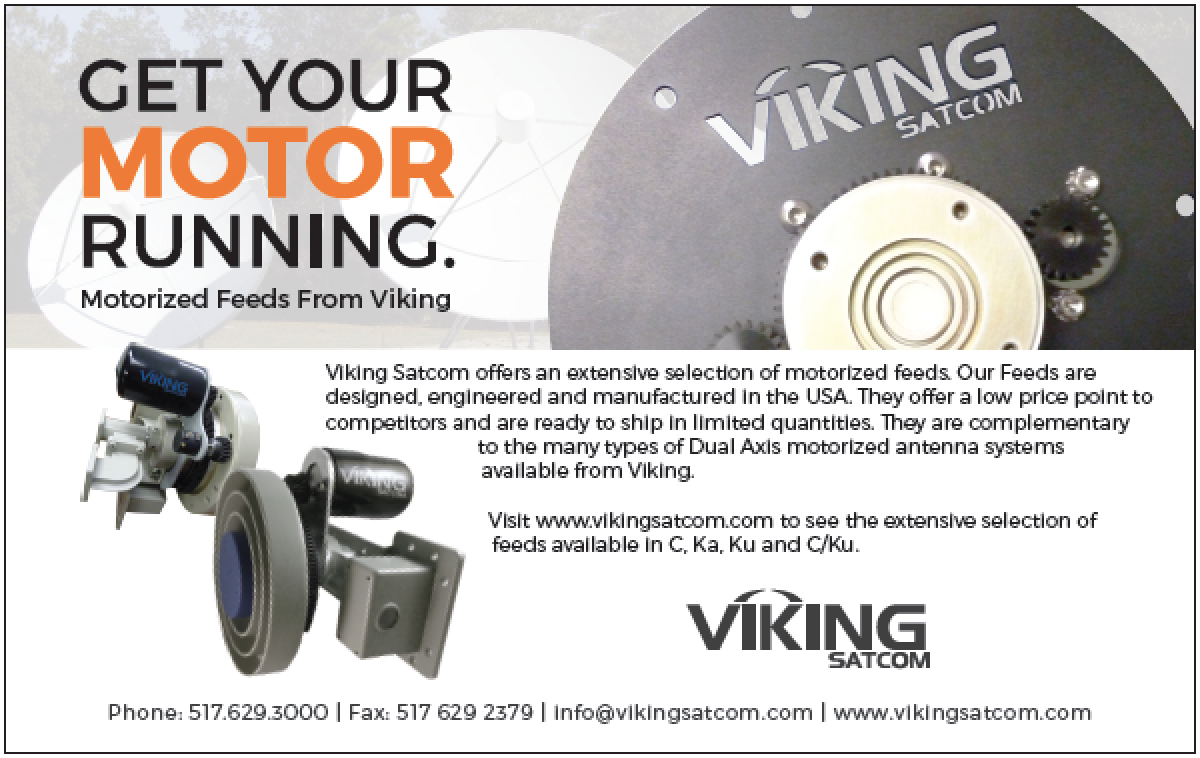 The GK2A satellite will carry out meteorological and space environment monitoring, using two main instruments: AMI (Advanced Meteorological Imager) and KSEM (Korean Space Environment Monitor).
The GK2B satellite is designed to monitor oceans and the Earth's environment also using two dedicated instruments:
GOCI-II (Geostationary Ocean Color Imager-II) and GEMS (Environmental Monitoring Spectrometer).
Thales Alenia Space integrated and tested three communication panels in its plant in Spain, two for GK2A and one for GK2B.
These panels house the subsystems that transmit to Earth the raw data from the instruments, as well as a communications payload comprising two repeaters, used to retransmit processed data to end-users.
Eduardo Bellido, CEO of Thales Alenia Space Spain commented that the shipment to South Korea of the third panel for GK2B culminates the integration phase in Spain.
It also marks the first time such large panels have been integrated in Spain, and they are delighted to meet the needs of their customer, KARI, and contribute to the success of GEO-KOMPSAT-2, a key program for South Korea.
A close relationship with R&D, Thales Alenia Space and the South Korean company Qnion teamed up to develop radio frequency (RF) filters as part of the COACH (Co-development for Advanced Channel Filters) program, co-financed by CDTI (Spain's Center for Industrial Technology Development) and KIAT (Korea Institute for Advancement of Technology).
This program, completed on March 31, was instrumental in the development of several components and subassemblies used in the communications systems on GK2A and GK2B.
www.kari.re.kr
www.thalesgroup.com
---