By Victoria Battison, Technical Writer, SatNews

Arianespace Galileo Gemination
Arianespace successfully launched the ninth and tenth satellites in the Galileo constellation for the European Commission, under a contract with the European Space Agency (ESA).
The company's eighth launch of the year, and the 12th Soyuz launch from the Guiana Space Center (CSG), Europe's Spaceport in French Guiana, occurred on September 10, 2015, at 11:08 pm local time, from the ELS launch complex, carrying two European Galileo navigation spacecraft.
In post-launch comments at the Spaceport, Arianespace Chairman and CEO Stéphane Israël noted these are the ninth and tenth Galileo spacecraft orbited by Arianespace, joining a constellation that will ultimately consist of 30 satellites.
These latest passengers for Soyuz, which are named Alba and Oriana, are the latest FOC (Full Operational Capability) satellites that are to operate in Galileo's Orbital Plane A—one of three orbital planes being populated by the European navigation spacecraft. There are three navigation signal bands: E5, E6 and #1, and a COSPAS SARSAT search and rescue transponder mission is included in the payload mix.
The European Commission is managing and funding Galileo's FOC phase, during which the network's complete operational and ground infrastructure is being deployed. Design and procurement agent responsibilities have been delegated to the European Space Agency (ESA) on the Commission's behalf.
Europe initiated the Galileo program to develop a new global satellite navigation system. Under civilian control, the constellation will offer a guaranteed, high-precision positioning service, with performance outpacing current solutions. Galileo is the first joint infrastructure developed by ESA and financed by the European Union and features innovative technologies developed in Europe to benefit all citizens by offering multiple applications and solutions.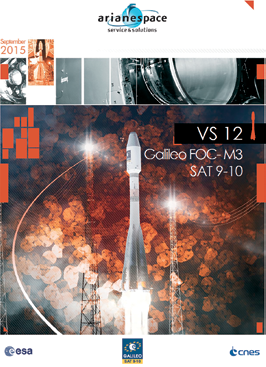 Five distinct services will be provided, all offering global coverage: general public, commercial, safety of life, public regulated, search and rescue. The first services will be available during 2016.
The Galileo FOC (Full Operational Capacity) satellites are built in Europe by OHB System of Bremen, Germany, as prime contractor, with all payloads supplied by SSTL (Surrey Satellite Technology Ltd.), a British subsidiary of Airbus Defence and Space.
Following this latest successful mission, Arianespace has now launched one-third of the satellites that comprise Galileo, or 10 out of a total of 30. The next Galileo launch is planned for December 2015, once again using a Soyuz launch vehicle.
The ES version of Ariane 5 will then take over, carrying four satellites on each mission, with a launch scheduled for the second half of 2016. In 2017 and 2018, one Soyuz and two Ariane 5 ES launchers will be used to orbit another ten satellites.
Shortly after the official announcement of this successful launch, Stéphane Israël said, "As a benchmark partner in the Galileo program, responsible for the constellation deployment, Arianespace upholds its commitment to guaranteeing independent access to space for Europe. This evening's launch, the sixth of eight scheduled European governmental missions this year, marks a further step towards European independence in satellite navigation—and we are very proud of our contribution.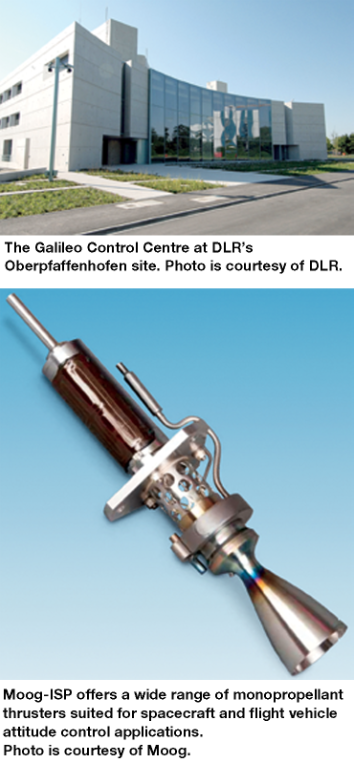 "I would like to thank the European Union, especially the Commission's DG Growth, as well as ESA for continuing to place their trust in us. I would also like to thank the Russian space agency Roscosmos for their commitment to our partnership based on the Soyuz launcher, which reaffirms its dual vocation for commercial and governmental missions. And, of course, thanks to CNES/CSG, to all staff at the space center, and to the teams at Arianespace for the availability of the launch facilities and this very successful eighth launch of the year."
Soyuz' flight with Galileo's Alba and Oriana satellites occurred during the eighth of 12 Arianespace missions planned for 2015, which will be a new record for the company's launcher family. Preparations at the Spaceport included the first use of the new FCube fueling facility, which is part of the improvements in French Guiana to increase launch capacity, flexibility and schedule robustness.
Israël acknowledged those who contributed to this latest Arianespace success, including the Russian federal space agency, Roscosmos, and the country's industrial partners; along with the European support companies; the French CNES space agency, and Arianespace's own teams.
OHB's Build
The satellite manufacturer, OHB System AG, added that Alba and Oriana reached their planned orbit at an altitude of around 23,000 kilometers just under four hours after launch.
The satellites then sent their first "sign of life" to the ESOC Control Center in Darmstadt, Germany. Over the next few days, the two satellites underwent preliminary function testing.
Marco R. Fuchs, CEO of OHB, said, "Even though we've, meanwhile, developed a certain launch routine, each and every launch in itself is a very special moment. I'd like to thank all the Galileo teams who participated in this success story for doing a great job once again."
Dr. Ingo Engeln, the member of OHB System AG's Management Board responsible for navigation, said, "Now we already have six OHB navigation satellites in orbit—what an amazing success! And the past satellites have all delivered compelling proof of the full functionality and performance."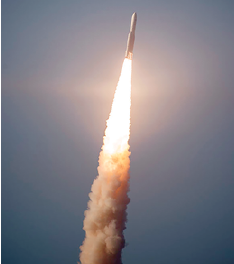 Aliac Jojaghaian, Head of the OHB team for the early operational phase at the ESOC Control Center in Darmstadt, said, "We were all absolutely thrilled with the successful initialization sequence of the satellites. We have a good connection, the solar panels have unfolded properly and are correctly aligned with the sun."
The Galileo Control Center in Oberpfaffenhofen now assumes responsibility for Alba and Oriana on behalf of the ESA and the European Commission—this includes the later commissioning of the payload. As the industrial prime contractor, OHB is responsible for 16 additional Galileo FOC navigation satellites.
The next Galileo FOC satellite pair has also already passed all functional, performance and environmental testing. Both satellites are ready for delivery to Kourou and for their launch scheduled for December. A further pair of satellites is already at the test center at Noordwijk to pass the environmental test campaign. At OHB in Bremen, work continues on building the Galileo satellites in parallel on a total of seven production islands.
OHB System AG belongs to the high-tech group OHB SE, where around 2,000 specialists and executives work on key European space programs. With more than three decades of experience, OHB System AG specializes in high-tech solutions for space. These include low-orbiting and geostationary satellites for Earth observation, navigation, telecommunications, science and space exploration as well as systems for manned space flight and aerial reconnaissance.
Moog Makes Movement
Another partner in the Galileo launch success was Moog Inc.'s Space and Defense Group—their work enables Galileo's Full Operational Capability (FOC) satellites, Galileo 9 and 10, to maintain their orbit 22,522 km above Earth.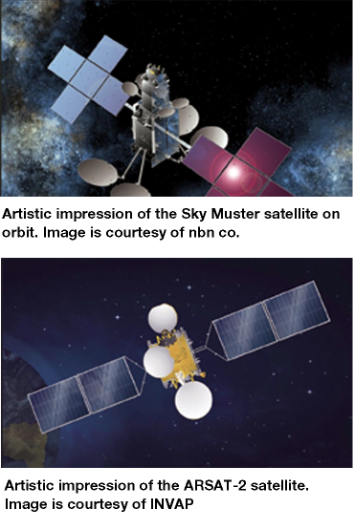 Launched atop a Soyuz-STB Fregat-MT rocket, the satellites provide accurate, guaranteed global positioning service, all interoperable with the US GPS and Russian GLONASS systems. The complete satellite system will consist of 30 satellites in three planes of Medium Earth Orbit (MEO) and a ground infrastructure.
Moog built the entire Galileo Propulsion System, which includes monopropellant engines, fill and drain valves, latch valves and pressure transducers including the complete thermal control system installation and harnessing. The propulsion system is a critical subsystem to the satellite, providing orbit maintenance and control capability, support of spacecraft de-tumbling, as well as attitude control in contingency cases.
Moog leveraged the experience gained from the unique Fermi Gamma-ray Space Telescope (formerly GLAST) and critical Landsat Data Continuity Mission (LDCM) propulsion systems with successful launches in 2008 and 2013, respectively, and the high production volume experience from the

ORBCOMM Generation 2 (OG2) constellation. Moog delivered all 14 propulsion systems for the first portion of the constellation, with the second batch of eight currently in the process of delivery. The complete system design, analysis, qualification, fabrication, acceptance testing, and delivery of this propulsion system was performed by Moog.
The design incorporates Moog-built components with robust designs and heritage such as fill and drain valves from the United Kingdom; latch valves from East Aurora, New York; pressure transducers from The Netherlands; and thrusters from Niagara Falls, New York. Final assembly and test is performed at the Niagara Falls facility that has been delivering spacecraft and missile propulsion systems for critical national assets for over four decades.
The Galileo satellites also include fine and cosine and fine sun sensors supplied by Moog. Sun sensors are designed to deliver exact information about the position of the sun. This vital information is used for yaw steering of the spacecraft and therefore applied in Earth pointing, solar array orientation and orbit control maneuvers.
The Full Operational Capability phase of the Galileo program is managed and fully funded by the European Union. The Commission and ESA have signed a delegation agreement by which ESA acts as design and procurement agent on behalf of the Commission. The views expressed in this Press Release can in no way be taken to reflect the official opinion of the European Union and/or ESA. "Galileo" is a trademark subject to OHIM application number 002742237 by EU and ESA.
Arianespace' Major ARSAT-2 + Sky Muster Moment
There's certainly no rest for Arianespace following the aforementioned Galileo twins launch, as the company remains on track for a record number of launches at the Spaceport during 2015.
Two telecommunications satellites that will provide expanded relay capacity for Australia and Argentina were orbited on September 30 for Arianespace's ninth mission in 2015—this places the company on track to perform a record 12 flights this year using its three-member launch vehicle family, which consists of the heavy-lift Ariane 5, medium-lift Soyuz and lightweight Vega.
Lifting off exactly on time during a daylight departure from the Spaceport in French Guiana, the heavy-lift Ariane 5 used for today's mission deployed the Sky Muster and ARSAT-2 satellite passengers during a 32-minute flight sequence. This launch marked the 82nd mission overall using Arianespace's workhorse launcher, as well as the 68th consecutive Ariane 5 success.
The First Satellite — nbn's Sky Muster
The first-released passenger on this mission was Sky Muster, which is the initial satellite to be operated by nbn, a service provider owned by the Commonwealth of Australia. This company's objective is to ensure all Australians have access to fast broadband as soon as possible, at affordable prices and at the least cost to taxpayers.
Built by Palo Alto-based SSL (Space Systems Loral), Sky Muster is scheduled to operate from geostationary orbit. Sky Muster is designed to deliver broadband services to more than 200,000 rural and remote Australians, providing coverage to the entire country—including the Norfolk, Christmas, Macquarie and Cocos islands. The launch of nbn's second spacecraft has also been entrusted to Arianespace.
The Second Satellite — Argentina's ARSAT-2
Completing Arianespace's VA226 mission was the deployment of ARSAT-2, which is the second of three geostationary satellites that will increase Argentina's telecommunications capacity and guarantee the same level of connectivity quality across the country's regions. Arianespace successfully orbited the first of these relay platforms—ARSAT-1—on an Ariane 5 flight in October 2014.
Built under the responsibility of Argentina's INVAP, ARSAT-2 will be operated by the state-owned Argentinian operator ARSAT (Empresa Argentina de Soluciones Satelitales Sociedad Anónima) to provide DTH television, Internet access services for reception on VSAT antennas as well as with data transmission and IP telephony.
Arianespace will have the opportunity to go "three-for-three" after concluding a launch contract for the third ARSAT telecommunications satellite, ARSAT-3. Signed at the Spaceport just hours before Flight VA226, this agreement also includes options on two more missions. ARSAT Chairman and CEO Matias Bianchi, who spoke after the confirmation of today's success, thanked Arianespace for another on-target mission, and added that ARSAT-3 is scheduled for launch from the Spaceport in 2019.
This launch, which in the Arianespace flight nomenclature was designed VA226, further extending Ariane 5's track record of highly accurate payload delivery, the estimated orbital parameters at injection of its cryogenic upper stage for Flight VA226 were:
- Perigee: 249.2 km for a target of 249.5 km
- Apogee: 35,911 km for a target of 35,927 km
- Inclination: 5.99 degrees for a target of 6.00 degrees
Following this launch success, Arianespace's mission pace will continue with two flights from the Spaceport, both of which are to be performed this November: a heavy-lift Ariane 5 launch with the Arabsat-6B and GSAT-15 payloads (Flight VA227); and a mission with the light-lift Vega carrying Europe's LISA Pathfinder (Flight VV06).
Chairman and CEO Stéphane Israël, in comments regarding Sky Muster, said, "We know how critical these satellites are for the nbn project, and therefore we are very grateful for being recognized as the reference launch solution in your development plan," he added. "We will be on track to deliver into orbit your second satellite next year."
"A huge amount of work has gone into this moment, and thousands of people across the world have worked tirelessly to make this launch successful," said Dr. Ziggy Switkowski, Chairman of nbn Co Limited, in his post-launch comments. "This is a significant moment for all of us Australians and truly a historic moment for our country."
Regarding ARSAT-2, Arianespace's Israel expressed his gratitude to both ARSAT and INVAP and offered a special word of thanks to the Argentinian government, which was represented at the Spaceport by Julio de Vido, Minister of Planning and Public Investment.
Israël also confirmed that Arianespace was on pace for a record-setting operational performance this year (12 flights from the Spaceport in 12 months) and he also highlighted the company's continued commitment to quality. Launch after launch, success after success, Arianespace demonstrates its capability to increase its launch rates while remaining the most reliable space transportation solution for all customers, whether commercial and institutional, whether GTO or non-GTO," he said.
Such successes are possible due to the company's launcher family—the Ariane 5, Soyuz and the lightweight Vega—and the Spaceport's capability to conduct multiple missions that are parallel with one another.
Airbus Defence & Space Adds...
"Airbus Defence and Space has been tightly linked with the Ariane program from the outset, and it will remain Ariane's main partner through the Airbus Safran Launchers joint-venture," said François Auque, Head of Space Systems.
"The 68th successful launch in a row confirms the outstanding capabilities of our launcher teams and our ability to use our experience to put in place the industrial organisation for future European launchers. We intend to remain the driving force for one of Europe's greatest industrial success stories."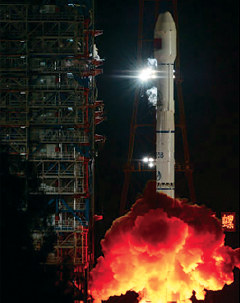 Airbus Defence and Space, a 50 percent shareholder in Airbus Safran Launchers, is the main industrial partner in the Ariane 5 program, one of the world's largest and most ambitious space programs. The industrial network brings together more than 550 companies in 12 European countries.
Drawing on the expertise the company has acquired, and the investments it has made over more than 10 years, Ariane 5 has become the most reliable commercial launcher on the global market and has increased its geostationary orbit payload capacity by almost two tonnes. Representing cutting-edge European expertise, the Ariane 5 launcher has been specially designed to inject heavy payloads into orbit.
For 40 years, the Guiana Space Center (CSG), Europe's Spaceport in French Guiana, has offered a complete array of facilities for rocket launches. It mainly comprises the following:
CNES/CSG technical center, including various resources and facilities that are critical to launch base operations, such as radars, the telecom network, weather station, receiving sites for launcher telemetry, etc.
Payload processing facilities (ECPU), in particular the S5 facility.
Ariane, Soyuz and Vega launch complexes, comprising the launch zones and launcher integration buildings.
Various industrial facilities, including those operated by Regulus, Europropulsion, Air Liquide Spatial Guyane and Airbus Defence and Space, are all involved in the production of Ariane 5 components. A total of 40 European manufacturers and local companies are involved in operations.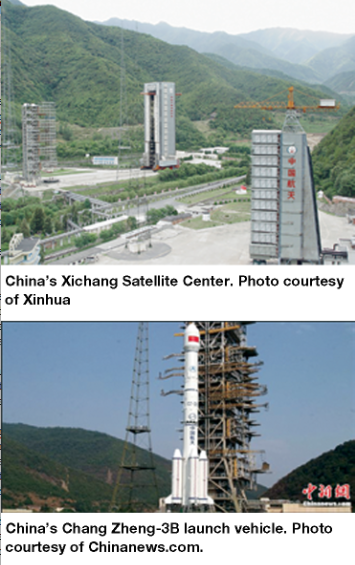 Europe's commitment to independent access to space is based on actions by three key players: the European Space Agency (ESA), French CNES space agency and Arianespace. ESA is responsible for the Ariane, Soyuz and Vega development programs. Once these launch systems are qualified, ESA transfers responsibility to Arianespace as the operator. ESA has helped change the role of the Guiana Space Center, in particular by funding the construction of the launch complexes, payload processing buildings and associated facilities. Initially used for the French space program, the Guiana Space Center has gradually become Europe's own Spaceport, according to the terms of an agreement between ESA and the French government. To ensure that the Spaceport is available for its programs, ESA takes charge of the lion's share of CNES/CSG fixed expenses, and also helps finance the fixed costs for the ELA launch complexes.
The French CNES space agency has several main responsibilities at the Guiana Space Center. It designs all infrastructure and, on behalf of the French government, is responsible for safety and security. It provides the resources needed to prepare the satellites and launchers for missions. Whether during tests or actual launches, CNES is also responsible for overall coordination of operations and it collects and processes all data transmitted from the launcher via a network of receiving stations to track Ariane, Soyuz and Vega rockets throughout their trajectories.
In French Guiana, Arianespace is the contracting authority in charge of operating the family of three launchers, Ariane, Soyuz and Vega. For Soyuz, Arianespace supervises the integration and functional checks of the launcher in the MIK facility, carried out by RKTs-Progress for the three lower stages, and by NPO-Lavochkin for the Fregat upper stage. It also coordinates Fregat propellant loading operations in the Fregat Fueling Facility (FCube), and satellite preparations in the EPCU payload preparation facility operated by CNES/CSG. Arianespace then integrates the satellite(s) on the Fregat stage in the S3B building, transfers the launcher and upper composite to the Soyuz Launch Zone and, along with the Russian entities in charge of the launcher, conducts the final countdown and liftoff operations from the Soyuz Launch Center (CDLS). Arianespace deploys a top-flight team and technical facilities to get launchers and satellites ready for their missions.
---
China's Charge Continues
The Xichang Satellite Center's Launch Area Two in China's Sichuan province—known as China's Aviation City—was the stage for the latest lift-off of a Long March 3B rocket, otherwise known as a Chang Zheng 3B. Aboard was what was described as an "experimental" satellite that will be involved in Ka-band technology testing.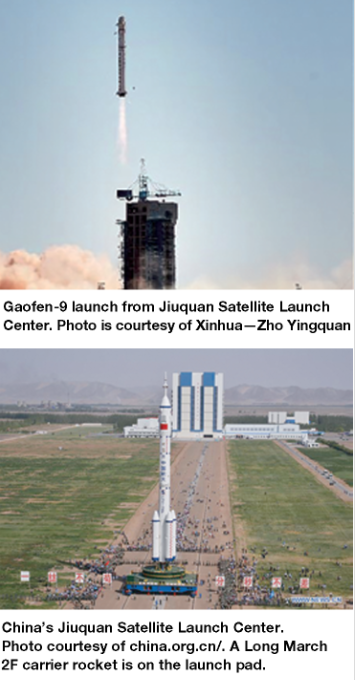 This successful launch occurred on Saturday, September 12th, and continues China's aggressive push into space. Due to the secretive nature of this launch, and rumors being posted throughout a number of space-oriented infosites, the hearsay is that this satellite is one that will form one of the important cogs within a new Chinese early warning system.
Various information outlets on the Internet named the new satellite Great Wall One, Qianshao-3, with the name "Communication Engineering Satellite One" popping up online in China several hours after the launch— unsurprisingly, no official nomenclature for the satellite has been posted by the Chinese government as of this writing.
The importance of this launch can also be surmised from the fact that the Chinese used one of their more potent rocket launchers to boost this satellite to orbit, a Chang Zheng-3B. This launcher boasts newly improved computer control systems, a larger fairing, four strap-on boosters as well as larger launch propellant tanks. The Chang Zheng-3B is more than capable of propelling a payload of as heavy as 24,691 pounds (11,200 kilograms) into LEO, or 11,244 pounds (5,100 kilograms) into a geosynchronous orbit.
The Xichang Satellite Center construction was completed in 1983, with full operations underway one year later. There are two launch pads at this location. One pad is for geosynchronous and meteorological satellite pushes via Long March CZ-3 launch vehicles, and the other is for both Long March CZ-2 and CZ-3 rockets.
One Of Seven... Maybe...
Then, on September 14, China sent another—according to the Xinhua News Agency—remote sensing satellite into space… the Gaofen 9.
The claim is that this is a Communications Engineering Test Satellite, as well, and will be used by the government to assist authorities and their optical imagery needs. The satellite was built by the Shanghai Academy of Spaceflight Technology and is based on the CAST-2000 platform, which is actually the civilian version of the Yaogan 2 military reconnaissance satellite.
This satellite is one of seven hoped-for satellites that should be in service by 2020 that will comprise the China High Resolution Earth Observation Systems, or CHEOS. The stated "clients" of the satellites are the Ministry of Agriculture, Ministry of Land and Resources and the Ministry of Environmental Protection.
Launched via a Long March 2D (Chang Zheng-2D) launch vehicle, this event occurred at the Jiuquan Satellite Launch Center from the 603 Launch Pad at that location. There are two launch pads at this center, the other being pad 921, from which manned launches are conducted. This launch vehicle can manage payloads up to 1,300 kg that are intended for Sun Synchronous Orbit (SSO) or Low Earth Orbit (LEO).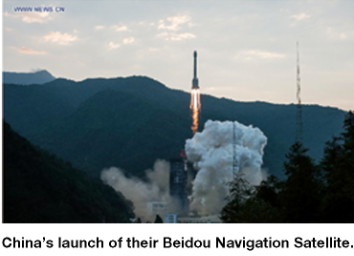 Good Timing For China
China launched a new-generation satellite into orbit that will support its global navigation and positioning network on September 30.
Launched from Xichang Satellite Launch Center in the southwestern province of Sichuan, the satellite was boosted by a Long March-3B carrier rocket. This was the 20th satellite for the Beidou Navigation Satellite System (BDS) and puts China one step closer to providing an alternative to the US-operated GPS.
For the first time, the satellite featured a hydrogen atomic clock. A series of tests related to the clock and a new navigation-signal system will be undertaken, according to a statement from the center. Named after the Chinese term for the plough or the Big Dipper constellation, the Beidou project was formally launched in 1994, some 20 years after GPS.
The first Beidou satellite was not launched until 2000. Nonetheless, by 2012, a regional network had already taken shape, providing positioning, navigation, timing and short message services in China and several other Asian countries.
China plans to expand the Beidou services to most of the countries covered in its "Belt and Road" initiative by 2018, and offer global coverage by 2020.[Article information is courtesy of Xinhuanet.]
---
India's ISRO In The Club
Astrosat, India's first dedicated, multi-wave, space observatory, was launched on September 28 from the spaceport of Sriharikota in Andhra Pradesh—according to the Indian Space Research Organization (ISRO), the spacecraft will study celestial objects. Astrosat is packing five scientific payloads.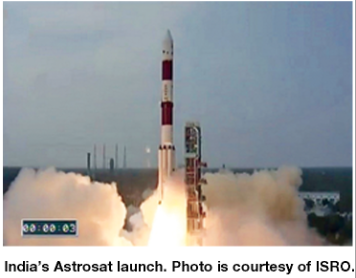 A Polar Satellite Launch Vehicle (PSLV-C30) carried Astrosat, along with six co-passengers (one satellite each from Indonesia and Canada, and four nanosatellites [nanos] from the US). Astrosat is India's first dedicated multi-wavelength space observatory.
The lift-off mass, with the seven satellite payload, was approximately 1,631 kg. and was launched into a 650 km orbit inclined at an angle of 6 degrees to the equator. This was actually the third time India's PSLV rocket has launched seven satellites into orbit.
Twenty-two minutes into the flight, Astrosat was placed into orbit, followed by the remaining six satellites, with the entire mission lasting just over 25 minutes in duration.
This scientific satellite mission will, hopefully, uncover a more detailed understanding of our universe. One of the unique features of Astrosat mission is that it enables the simultaneous multi-wavelength observations of various astronomical objects with a single satellite, ISRO said. Astrosat will observe the universe in optical, ultraviolet, low and high energy X-ray regions of the electromagnetic spectrum, whereas most other scientific satellites are capable of observing a narrow range of wavelength band.
The mission is also to detect new briefly bright X-ray sources in the sky and to perform a limited deep field survey of the universe in the ultraviolet region. Astrosat is scheduled for five years of flight and carries four X-ray payloads, one UV telescope and a charge particle monitor.
According to ISRO, after injection into orbit, the two Astrosat solar panels automatically deployed in quick succession. The spacecraft control center at Mission Operations Complex (MOX) of ISRO Telemetry, Tracking and Command Network (ISTRAC) at Bengaluru will manage the satellite during its mission life.
ISRO said the scientific objectives of Astrosat mission are to understand high energy processes in binary star systems containing neutron stars and black holes, to estimate magnetic fields of neutron stars and to study star birth regions and high energy processes in star systems lying beyond our galaxy.
Apart from ISRO, four other Indian institutions—Tata Institute of Fundamental Research, Indian Institute of Astrophysics, Inter-University Centre for Astronomy and Astrophysics and Raman Research Institute—were involved in the payload development. Two of the payloads were built in collaboration with the Canadian Space Agency 0CSA) and the University of Leicester in the UK.
The Five Scientific Payloads Aboard Astrosat
The Ultraviolet Imaging Telescope (UVIT) that was developed by Indian Institute of Astrophysics at Bangalore and Inter University Centre for Astronomy and Astrophysics, in collaboration with ISRO and the Canadian Space Agency (CSA). UVIT will observe the sky in the visible, near ultraviolet and far ultraviolet regions of the electromagnetic spectrum via two large field of view telescopes.
The second payload is the Large Area X-ray Proportional Counter (LAXPC), which will study X-ray emission variations from sources such as X-ray binaries and other cosmic sources. The instrument is able to measure the spectral characteristics of various classes of X-ray sources over a wide, spectral range of from 3 to 80 kilo electron Volts (keV). This payload was developed by the Tata Institute of Fundamental Research (TIFR) of Mumbai and Raman Research Institute (RRI) of Bangalore.
In collaboration with the University of Leicester, UK, and the ISRO, the Soft X-ray Telescope (SXT) was develop especially to study how the X-ray spectrum of 0.3 to 8 keV range comes from distant celestial bodies and how such varies over time. There is a 2 meter focal length telescope and a cooled Charged Coupled Device aboard SXT.
Developed by TIFR and IUCAA, in collaboration with ISRO, is the Cadmium Zine Telluride Imager (CZTI), which also functions in the X-ray region and senses X-rays of high energy in the 10 to 100 keV range. This payload may also be able to detect gamma ray bursts and then study such characteristics.
The ISRO Satellite Center at Bangalore and IUCAA developed the fifth Astrosat payload, that being the Scanning Sky Monitor (SSM), which will scan for bright X-ray sources in binary stars as well as detect and locate sources that become bright in X-rays for short durations of time. These X-ray sources will then be studied in greater detail by the other instruments on Astrosat.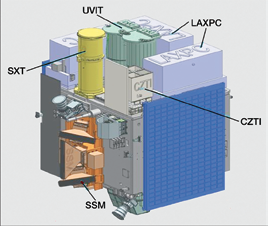 Commenting on the launch, Indian Space Research Organisation Chairman AS Kiran Kumar, said, "What it means for India is this: it is one of the first scientific missions which will be available to the Indian researcher community as an observation opportunity. This is a starting point for such things."
The Other Six Satellites Include...
LEMUR nanosats, four of them, are remote sensing satellites that will be primarily focused on gathering intelligence regarding global maritime activities through the tracking of vessels via AIS. The satellites are from Spire Global Inc., which is based in San Francisco, California. LEMURs will also engage in weather forecasting through the use of GPS radio occupation technology.
LAPAN-A2, an Indonesian microsatellite that will perform maritime surveillance using AIS. Additionally, the satellite will offer support for disaster mitigation via the amateur radio user community in the country as well as Earth observation with the spacecraft's video and digital camera. The satellite was built by the National Institute of Aeronautics and Space.
NLS-14 is from the University of Toronto's Institute for Advanced Studies. This 14 kg. Space Flight Laboratory will monitor maritime activities, also via next generation AIS.
The Indian PSLV rocket has launched 84 satellites during the 1994 to 2015 time period, including the seven satellites that comprised this mission.
---
Russia's Footprints
Express To Space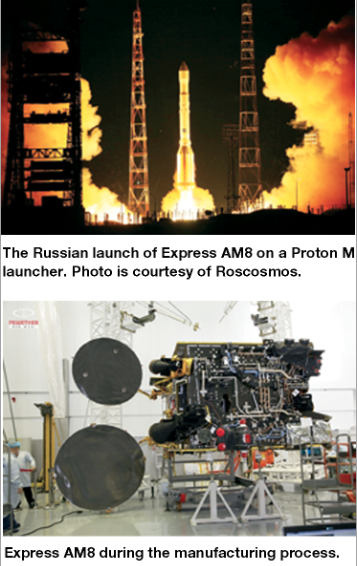 The Russian communications satellite Express AM8 (Ekspress-AM8) was successfully launched by a Proton M launcher on September 15, 2015.
This 2,100 kg satellite was built by ISS Reshetnev, who is the prime contractor for RSCC (Russian Satellite Communications Company). The Express AM8 includes a 641 kg. C-, Ku- and L-band payload that was designed and built by Thales Alenia Space. Based on the ISS Reshetnev Express 1000N platform, Express AM8 was assembled, integrated and tested at ISS Reshetnev's plant in Zheleznogorsk, Russia.
The payload is rated at 5.9 kW and offers a design life of 15 years and is comprised of 28 active C-band transponders, providing two footprints of coverage: one in Europe, Africa and the Middle-East, and the second in Latin America and along the East coast of North America. The satellite also includes 20 active Ku-band transponders with three footprints: Europe/Middle-East, Africa/Middle-East and Latin America/East coast of North America. In addition, this payload has three L-band transponders.
Operated by RSCC from an orbital slot at 14 degrees West, Express AM8 will provide high quality fixed and mobile communication services as well as broadcast services for digital television and radio, plus data transmission, high-speed Internet access and secure government communications.
The successful cooperation between the Russian space industry and Thales Alenia Space stretches back more than 20 years, starting with the SESAT program, which pioneered this East/West industrial collaboration. RSCC is a major customer for Thales Alenia Space, which has provided payloads for a large number of satellites: Express A1, A2, A3, A4 and A4R, Express AM11, AM22, AM33 and AM44, Express AM2 and AM3, Express AT1 and AT2 (on ISS platforms), as well as Express MD1 and MD2 (on Khrunichev platforms).
"This new success reflects our ability to work efficiently with our partners from the Russian space industry, especially RSCC and ISS Reshetnev," said Jean-Loïc Galle, President and CEO of Thales Alenia Space. "We have demonstrated our adaptability in the frame of an international cooperation as well as during launch campaigns. Our partnership is now continuing through our joint venture, Universum Space Technologies, dedicated to the production of world-class equipment for payloads used in both domestic and export markets. Operating in eight European countries and aiding the development of space industries in several other countries around the world, Thales Alenia Space is the natural partner to support the development of national space programs in emerging countries."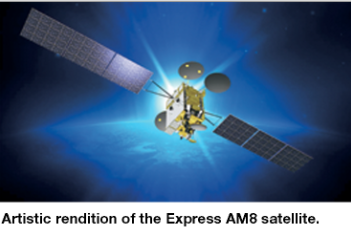 Russia's Rockot 'N Roll
Three Russian Strela-3M/Rodnic military communications satellites were pushed into orbit from the Plesetsk spaceport's launch pad #3 into orbit on September 24. The launch vehicle used was a Rockot with a Briz-KM booster stage.
The satellites are designated as Cosmos-2507, Cosmos-2508 and Cosmos-2509 and are registered by NORAD as 40920, 40921 and 40922.
The Rokot light rocket was created under the conversion program on the basis of decommissioned intercontinental ballistic missile RS-18. The first launch of the Rokot rocket occurred from the Plesetsk Space Center on May 16, 2000. The Defense Ministry plans to stop using these rockets from 2016 in favor of the light rocket Angara and Soyuz-2.1v. Rokot rockets have been launched from Plesetsk 23 times since.
---
ULA's MUOS Family Addition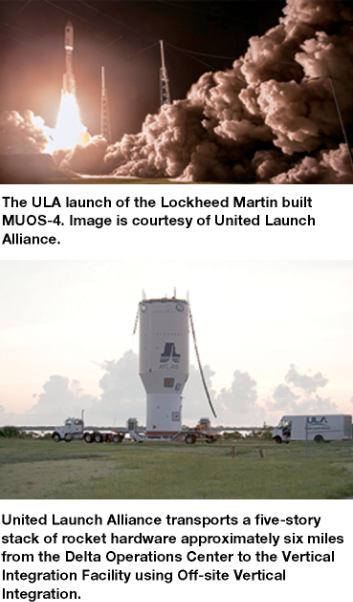 A United Launch Alliance (ULA) Atlas V rocket carrying the fourth Mobile User Objective System satellite for the US Navy launched from Space Launch Complex-41 at 6:18 a.m. EDT on September 2nd.
A Lockheed Martin-led initialization team, stationed at Naval Base Ventura County, Point Mugu, California, is operating the satellite from its transfer orbit to its test slot.
The MUOS-4 spacecraft will bring advanced, new, global communications capabilities to mobile military forces, as well as ensure continued mission capability of the existing Ultra High Frequency satellite communications system. This is ULA's eighth launch in 2015, the second MUOS satellite launched in 2015 and ULA's 99th successful launch since the company was formed in December 2006.
MUOS-4 is the fourth of a five satellite constellation to be launched and operated by PMW 146, the Navy's Communications Satellite Program Office. The MUOS satellites are the heaviest payloads to ride into space atop any of ULA's Atlas V launch vehicles. The Atlas V generates more than two and half million pounds of thrust at liftoff in order to meet the demands of lifting the nearly 7.5 ton satellites.
Jim Sponnick, ULA vice president, Atlas and Delta Programs, said, "This successful launch will enable the MUOS constellation to reach global coverage. The Lockheed Martin-built MUOS-4 satellite will deliver voice, data, and video communications capability, similar to a cellular network, to our troops all over the globe."
This mission was launched aboard an Atlas V Evolved Expendable Launch Vehicle (EELV) 551 configuration vehicle, which includes a 5-meter diameter payload fairing along with five Aerojet Rocketdyne solid rocket motors attached to the Atlas booster. The Atlas booster for this mission was powered by the RD AMROSS RD-180 engine and the Centaur upper stage was powered by the Aerojet Rocketdyne RL10C-1 engine.
The US Navy's MUOS is a next-generation narrowband tactical satellite communications system designed using a combination of orbiting satellites and relay ground stations to significantly improve communications for US forces on the move. MUOS will provide new beyond-line-of-sight communications capabilities, with smartphone-like simultaneous voice, video and data—to connect military users almost anywhere around the globe.
The EELV program was established by the US Air Force to provide assured access to space for Department of Defense and other government payloads. The commercially developed EELV program supports the full range of government mission requirements, while delivering on schedule and providing significant cost savings over the heritage launch system
This is actually a first... United Launch Alliance (ULA) and the US Air Force (USAF) performed off-site vertical integration (OVI) of several structural elements and the Centaur upper stage for the Atlas V launch vehicle in order to minimize the number of lifting operations performed at the Vertical Integration Facility (VIF) at Cape Canaveral. This also is a positive action as it reduces one week's worth of time between launches.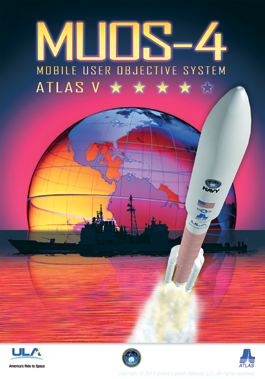 "We are very pleased to have successfully completed the first Off-site Vertical Integration for the upcoming Mobile User Objective System launch. With OVI, the team developed an innovative process that provides safer and more efficient launch processing of the Atlas vehicle," said Jim Sponnick, ULA vice president, Atlas and Delta Programs.
"The associated one-week reduction in the launch-to-launch processing spans enables us to better meet the launch needs of our customers."
For a 500-series Atlas V rocket, such as the one launching the MUOS-4 mission, the OVI process accomplishes the integration of six structural elements along with the Centaur upper stage inside a test cell in the Delta Operations Center (DOC), rather than conducting major portions of these complex hardware lifting and mating tasks outside at the VIF. Moving these operations inside provides a safer working environment for employees and mitigates weather impacts to launch schedules. In the last six years, there were 25 days of weather delays to launch vehicle stacking operations at the VIF.
One of the innovations required to enable OVI was the development of a transporter to safely move the five-story stack of rocket hardware approximately six miles from the DOC to the VIF. The transporter includes a tank pressure control system for the Centaur upper stage.
"The Off-site Vertical Integration process, including ground support equipment designs and operational procedures, were developed in collaboration with our Air Force customer to support launch manifest needs and enable continuous improvement to these critical launch operations," said Sponnick.
Space and Missile Systems Center commander Lieutenant General Sam Greaves said, "The Air Force is pleased to partner with ULA to find and implement efficiencies. The associated one-week reduction in the launch-to-launch processing spans enables us to better meet the launch needs of our customers. We are fully onboard with efforts to implement continuous process improvement, a key tenant of better buying power 3.0."
MUOS is a constellation of five planned communications satellites designed to provide tactical mobile communications to the United States military. Although not yet complete, the introduction of MUOS-4 will give the MUOS system worldwide coverage for the first time, with the final satellite intended to serve as an on-orbit spare. The constellation is expected to be fully operational in 2017.
The MUOS constellation replaces the seven UHF Follow-On (UFO) satellites that were launched between 1993 and 2003.
---