High throughput capacity and efficient ground infrastructure meets rising demand for staying connected aboard maritime vessels.

Today, more than 20,000 maritime vessels sailing around the globe are online—thanks to satellites. Going forward, an additional 51,000 could be set to communicate ship-to-shore using this technology—representing 71 percent of the total market.
This is a significant figure, cited within the fourth annual comsys Maritime VSAT Report, especially when you consider that the addressable market for maritime once stood at only 10,000. In fact, between 2012 and 2013, VSAT installations increased by 25 percent, while service revenues grew by 15 percent, now totaling $1.3 billion.
You could say that the days of maritime operators being hesitant to invest in onboard communication technology due to a lack of Return On Investment (ROI) are becoming an element of the past—more and more, VSAT is being viewed as a cost saver rather than a costly investment aboard all types of maritime vessels.
On average, VSAT service typically represents only about 1 percent of a vessel's operating costs. However, the ROI can be compelling. Take crew welfare, for example: comsys states that many maritime operators experience turnover rates of 35 percent; the lack of connectivity is a common reason crew jump ships to work on a vessel offering better connectivity. Replacing crew takes a major toll on acquisition and training costs, which can also include screening, visa arrangement and immigration expenses.
For global maritime operating companies, the key to investing in VSAT comes down to balancing connectivity spending on business objectives with tangible measured results. These results can span from improving crew welfare and passenger connectivity to now supporting a wide range of business applications, such as monitoring weather patterns to help cut fuel costs, filing regulatory documents and ordering supplies from sea to save time in port and generating business intelligence through a growing range of software applications, among others.
Higher Throughput Comes Aboard
As the value of VSAT increases, so does demand from maritime operators for higher throughput services. Subsequently, this drives revenue growth from the installed base. According to figures from comsys, VSAT data rates in various segments have skyrocketed from 10Mb in 2007 to 100Mb in 2013, due in large part by streaming video and bandwidth-intensive business applications.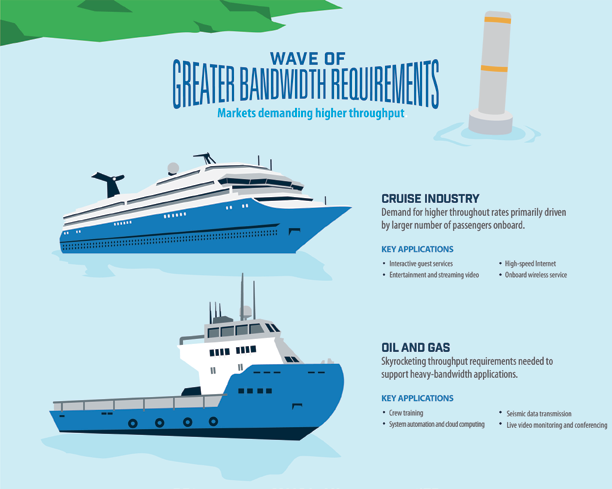 The introduction of High Throughput Satellite (HTS) capacity has been a driving factor. The advent of HTS addresses two critical challenges that have plagued VSAT operators for years: the rising price and lack of availability of satellite capacity. For end-users, HTS lowers the cost of capacity per MB, which is projected to make VSAT service more economical, along with higher data rates and more affordable, compact terminals and antennas.
According to Northern Sky Research (NSR), nearly 30 Gbps of HTS capacity will come online from GEO and Non-GEO orbits across C-, Ku- and Ka-bands—with an average compound annual growth across both orbits and frequencies of 40 percent.
Furthermore, NSR sees an average 46 percent compound annual growth rate for HTS VSAT in-service units over the next 10 years. The number of units will experience a dramatic increase, from roughly 100 units in 2014 to reaching nearly 16,000 units by 2024. Add to that the projection that HTS VSAT revenues will increase from around $10 million in 2014 to more than $1.2 billion by 2024, the result is an outlook that is considered to be extremely healthy.
Look no further than the launch of new HTS constellations targeted at the maritime sector as reinforcement of this trend:
Inmarsat Global Xpress (GX) will provide seamless global coverage over Ka-band based on a managed service model. With GX, service providers can procure high-speed capacity over any maritime route, delivering a consistent network experience. And they can do so without needing to manage HTS ground infrastructure, which can be very complex and capital-intensive due to spot-beam architectures.
The IntelsatOne Flex network, a high-performance managed service that leverages Intelsat's new Epic fleet of spot-beam satellites, along with its existing global Ku-band fleet. The Intelsat offering will allow service providers to manage the customization, contention and prioritization of sub networks and end-user terminals with tiered Committed Information Rate (CIR) plans.
Telenor's THOR 7 takes a more regional approach and delivers a Ka-band HTS payload of up to nine Gbps of throughput across 25 spot beams over the North, Mediterranean and Baltic Seas. Blend these trends together and the result is a significant shift in the way maritime companies will leverage VSAT in the years ahead.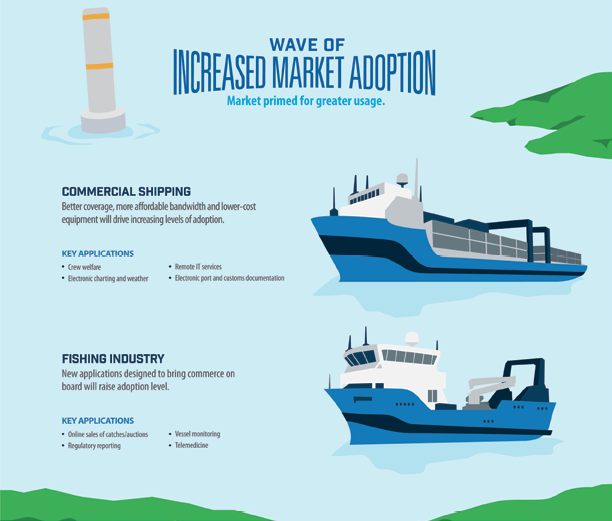 The Right Moves On The Ground
Not to be lost amid all the talk of innovation in the sky via HTS and other advances is the role of the satellite ground infrastructure. For satellite operators and service providers alike, selecting the correct ground infrastructure can be one of the most important decisions they make in regard to meeting their market needs:
For satellite service providers, it's about being in position to best capitalize on every opportunity as HTS introduces an influx of new capacity, as well as a new set of dynamics. This means the need to scale networks, provide faster speeds and look at different business models to meet their customers' needs.
For satellite operators, it's about tackling a new set of challenges, ranging from the ability to manage capacity in a spot-beam environment to operating the ground infrastructure to offer capacity via a managed service. Satellite operators must consider both the fundamental system design, as well as its ability to handle unique HTS challenges.
iDirect (www.idirect.com) plays a leading role for satellite operators and service providers. For service providers, iDirect's Evolution® TDMA platform cost-effectively helps with the sharing of bandwidth across multiple vessels, while prioritizing each ship's dynamic requirements without compromising quality and reliability.
Today, more than half of all VSAT remotes deployed on vessels are built by iDirect—eight of the 10 largest maritime VSAT service providers by revenue rely on iDirect's Evolution platform to run their networks.
The iDirect Velocity™ platform enables satellite operators to capitalize on their HTS investment. iDirect Velocity is designed to enable Satellite Operators the global delivery of high-performance capacity over spot-beam satellites. Each of three aforementioned HTS services—GX, IntelsatOne Flex and THOR 7—are taking their HTS solutions to market via iDirect Velocity.
iDirect Velocity's global bandwidth management technology allows satellite operators to stitch together multiple spot beams as one unified bandwidth pool. This allows the ability to offer managed Mega bits per second (Mbps) services to customers across the total bandwidth pool, rather than operating strictly within individual beams.
Service providers can operate simultaneously on both iDirect's Evolution and iDirect Velocity to manage a blended portfolio that uses dual-mode remotes.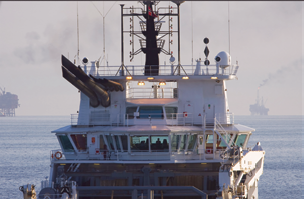 The Future At-Sea
These days, VSAT technology means significant business modernization in the maritime industry. The market is growing. Currently, there are more than 150 service providers, increasing the competitive offerings and value-added services across the maritime market. Stabilized VSAT antennas are becoming far more cost effective and easier to install and that helps to make VSAT more attractive to a larger number of maritime vessels.
As economics improve from both a hardware and a service perspective, and the benefits of connectivity reach every section of a vessel, VSAT will become a primary requirement for getting things done at-sea.
---