Launch success for two SSTL-built smallsats
Surrey Satellite Technology Ltd. (SSTL) announced the successful launch of CARBONITE-2, an Earth Observation (EO) technology demonstration mission owned and operated by SSTL, and of the Telesat LEO Phase 1 communications satellite, an important milestone in Telesat's plans to deploy a global LEO constellation for broadband communications services around the world.
These two small SSTL satellites were launched into a 505 km. sun-synchronous orbit (SSO) on board a PSLV launch vehicle from the Satash Dhawan Space Center in Sriharikota, India, on January 12, 2018, at UTC/GMT 03:59. Following separation from the launch vehicle, SSTL is pleased to confirm that successful contact was made with both satellites and all initial system checks for both spacecraft are nominal.
CARBONITE-2 is a technology demonstration mission that will demo a low cost video-from-orbit solution using Commercial-Off-The-Shelf (COTS) technologies. The 100 kg. spacecraft flies a COTS telescope and HD video, both of which have been adapted for a space environment and integrated into a custom built framework. The imaging system is designed to deliver 1m resolution images and color HD video clips with a swath width of 5km.
Under a contract announced in November 2017, SSTL will supply British company Earth-i with CARBONITE-2 data for proving tasking, downlinking and image processing in preparation for a constellation of five CARBONITE series satellites.

CARBONITE-2 is the second technology demonstration satellite in the series to be launched by SSTL; the first, CARBONITE-1, was launched in 2015 and achieved full mission success by demonstrating the concept of a low-cost COTS video-from-orbit solution.
The CARBONITE-2 satellite flies enhanced avionics to provide increased data storage, faster data downlink, improved pointing accuracy, and a full color HD video camera. SSTL's CARBONITE series of spacecraft have been specifically designed for large constellations.
The simplified, rapid-build platform design incorporates SSTL's flight-proven avionics and a large payload accommodation area to fly a variety of Earth observation sensors.
The Telesat LEO Phase 1 satellite, which will allow Telesat to test key performance parameters of its next generation global LEO constellation, has a mass of 168kg and was manufactured by SSTL in the UK. SSTL's spacecraft operators will complete commissioning and orbit-raising maneuvers for the satellite from SSTL's Spacecraft Operations Centre in Guildford.
Once the Telesat LEO Phase 1 satellite has reached its final planned orbit, command will be handed over to Telesat for in-orbit operation using the Ka band payload from Telesat's ground station at Allan Park in Canada.
Sir Martin Sweeting, Executive Chairman of SSTL, said that this launch marks the start of two new pioneering missions: a technology demonstration for CARBONITE-2 and the initial deployment of Telesat's global LEO constellation with their Phase 1 LEO satellite. He was particularly pleased that SSTL's space technology expertise will be advancing NewSpace applications in both high throughput broadband and low cost video-from-orbit.
www.sstl.co.uk
www.telesat.com/
---
Space Flight Laboratory now engaged in Norsat-3 smallsat build
The Space Flight Laboratory (SFL) at the University of Toronto Institute for Aerospace Studies (UTIAS) has announced that NorSat-3, a 15 kilogram microsatellite, has been ordered by the Norwegian Space Center and that construction is well underway — NorSat-3 follows from the successful NorSat-1 and NorSat-2 satellites that were also built by SFL.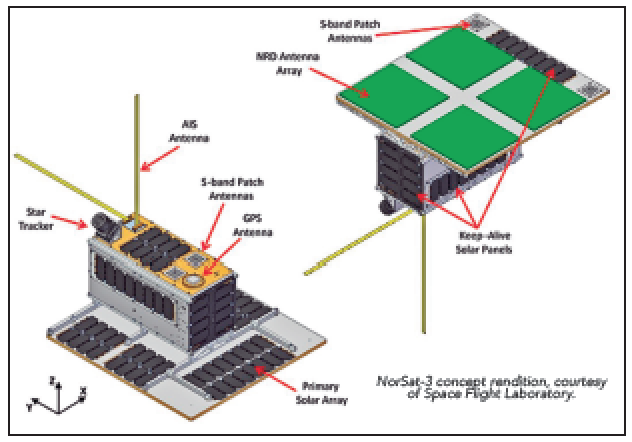 This satellite will carry an experimental navigation radar detector to augment ship detection capabilities from its Automatic Identification System (AIS) receiver. NorSat-3 will add another satellite to Norway's assets in space — four in total so far, all producing data related to maritime traffic monitoring. Combining a navigation radar detector and AIS receiver will potentially provide much better maritime awareness for the Norwegian Coastal Administration, Armed Forces and other maritime authorities.
The satellite is funded by the Norwegian Coastal Administration and managed by the Norwegian Space Center. The Norwegian Defence Research Establishment (FFI) is leading the development of the radar detector payload which is funded by the Ministry of Defence. NorSat-3 is a civilian satellite designed to capture signals from civilian navigation radar.
Automatic Identification System (AIS) message reception alone may not provide a complete picture of maritime traffic. The problem of missing or manipulated AIS messages can only be addressed through the use of supplemental sensing technology. In the case of NorSat-3, a navigation radar detector provides some supplemental support for more accurate ship detection and identification. The detection of navigation radar from ships will provide the ability to verify the accuracy of received AIS messages and also the ability to detect ships whose AIS messages have not been received.
NorSat-3 represents another barrier breaking, paradigm-shifting advance in smaller satellites using SFL's next-generation Earth Monitoring and Observation (NEMO) platform.
SFL built the NorSat-1 and -2 smallsats on behalf of the Norwegian Space Center with support from the Norwegian Coastal Authority, Space Norway, and the European Space Agency. The two smallsats were launched on July 14, 2017. Each weighs approximately 15 kilograms, with main body dimensions of 20x30x40cm.
NorSat-1 and -2 carry state-of-the-art Automatic Identification System (AIS) receivers built by Kongsberg Seatex to acquire messages from maritime vessels. In addition, NorSat-2 has a VHF Data Exchange (VDE) payload that enables higher bandwidth two-way communication with ships. Adding VDE enables increased messaging capacity, better reliability of message delivery, and increased range of ship-to-shore and ship-to-ship communication beyond direct line of sight.
SFL builds big performance into smaller, lower cost satellites and are built with advanced power systems, stringent attitude control and high-volume data capacity that are striking relative to the budget. SFL arranges launches globally and maintains a mission control center accessing ground stations worldwide. The pioneering and barrier breaking work of SFL is a key enabler to tomorrow's cost aggressive satellite constellations.
www.utias-sfl.net/
---
Space launch market estimated to reach $27.18 billion by 2025
A new research report, now available from ASDReports, is entitled "Space Launch Services Market by Service Type (Pre-Launch, Post-Launch), Payload (Satellite, Human Spacecraft, Cargo, Testing Probes, Stratollite), End User, Orbit, Launch Vehicle Size, Launch Platform, and Region - Global Forecast to 2025."
The space launch services market is estimated to be USD 8.88 billion in 2017 and is projected to reach USD 27.18 billion by 2025, at a CAGR of 15.01 percent during the forecast period.
The increase in demand for small satellites (smallsats), rise in space exploration activities, and technological advancements to develop low-cost launch vehicles are key factors driving the growth of the space launch services market.
Based on service type, the pre-launch segment is expected to lead the space launch services market from 2017 to 2025. The growth of the pre-launch services segment can be attributed to an increase in the number of launch service providers and reduction in the price of launch and integration services that include flight hardware support and mission management.
In addition, technological advances in space systems have led to expanding the capabilities of payloads, thereby contributing to the growth of the pre-launch services segment of this market.
Based on payload, the satellite segment of the space launch services market is expected to grow at the highest CAGR from 2017 to 2025.
The increased demand for Earth observation (EO) and communication satellites has led to the growth of the satellite segment. These satellites are intended for monitoring the Earth's surface to obtain valuable information for mapping, mineral exploration, land-use planning, and resource management, among other activities.
Based on launch vehicle size, the small lift launch vehicles segment is projected to lead the space launch services market from 2017 to 2025.
The increasing deployment of small satellites for commercial and military applications and rising investments for the development of small launch vehicles are factors contributing to the growth of the small lift launch vehicles segment of the space launch services market.
North America is estimated to lead the space launch services market in 2017. The increasing demand for launch services for satellites, human spacecraft, and space probes is projected to drive the growth of the space launch services market in North America. In addition, increased investments in space probe missions are further contributing to the growth of the space launch services market in this region.
Antrix Corporation (India), Arianespace (France), Boeing (US), China Great Wall Industry Corporation (China), EUROCKOT (Germany), ILS International (US), Lockheed Martin (US), Mitsubishi Heavy Industries (Japan), Orbital ATK (US), Space Exploration Technologies (US), Space International Services (Russia), Spaceflight (US), Starsem (France) and United Launch Alliance (US) are key players operating in the space launch services market.
Download information regarding this informative report at
www.asdreports.com/market-research-report-436017/space-launch-services-market-global-forecast?utm_source=ASDNews&utm_medium=affiliate&utm_campaign=ASDNews_PRS&utm_content=title_tekstlink
Also of interest could be ASDReports' Global Small Satellites Market — Analysis and Forecast: 2017 to 2021.
The small satellites market has witnessed a high growth rate owing to the advancements in satellite miniaturization, increasing capability of electronic technology, ascending demand for small satellite constellations, and increase in the deployment of small satellites for commercial end users.
Recent innovations in smallsat subsystems have enabled them to reach a wider segment of consumers in the satellite industry. The companies are developing relatively low-cost small satellites which facilitate services almost equivalent to the traditional big satellites that serve government agencies or public sector industries. This, in effect, is expected to increase competition in the near future as well as facilitate the use of smallsats for varied applications.
In terms of revenue, the small satellites market generated $2,528.1 million during 2016.
To learn more, access www.asdreports.com/market-research-report-436233/global-small-satellites-market-analysis-forecast
---
Clyde Space acquired by ÅAC Microtec AB
The Swedish space tech company ÅAC Microtec AB ("AAC") has entered into a share sale and purchase agreement to acquire 100 percent of the shares in UK based Clyde Space Ltd ("Clyde Space") (the "Transaction"), a leading player in the global, high-growth smallsat market.

The acquisition will be paid for with 30,466,326 newly issued shares in AAC and GBP 2 million in cash, equivalent to approximately SEK 294 million (at a share price of 8.90 SEK/share). After completion of the acquisition, Clyde Space owners will hold 49 percent of AAC. The company employs 77 individuals in Glasgow, Scotland.
Clyde Space has supplied complete platforms as well as more than 2,000 subsystems for small spacecraft. In the cubesat sector, Clyde Space is a market leader, supporting between 30 and 40 percent of all current and past missions.
For the period Q1-Q3 2017, Clyde Space's revenues amounted to approximately GBP 3.98 million, corresponding to approximately million SEK 45 million. EBITDA for the same period amounted to approximately GBP -0.03 million.
aacmicrotec.com
www.clyde.space
---
Launcher for smallsats considered for development by ISRO
A low-cost small satellite launcher that could be capable of putting 500 to 600 kg. satellites into close Earth orbits could well be the next item on the menu of the Indian Space Research Organisation (ISRO).
Preliminary work to design and develop an ambitious small launch vehicle began about three months ago, said K. Sivan, Director of ISRO's rocket development node, Vikram Sarabhai Space Center (VSCC). Its design will enable a handful of engineers to assemble it within a week.
VSSC has designed the vehicle using the rocket technology that it already has and is awaiting ISRO's approval. "We are looking at having a demonstration launch in a year, in the 2018-19 time frame," Dr. Sivan told The Hindu news publisher.
The development cost would be kept low at a few crore as the new launcher's requirement of advanced electronics is considerably lower.
The launch fee that customers would have to pay would also be reduced, which is what all space agencies aim at: low-cost access to space.
Since 1999, ISRO's PSLV rockets have launched 209 smallsats from 28 countries for a fee; they have been for experimental, university or remote-sensing uses.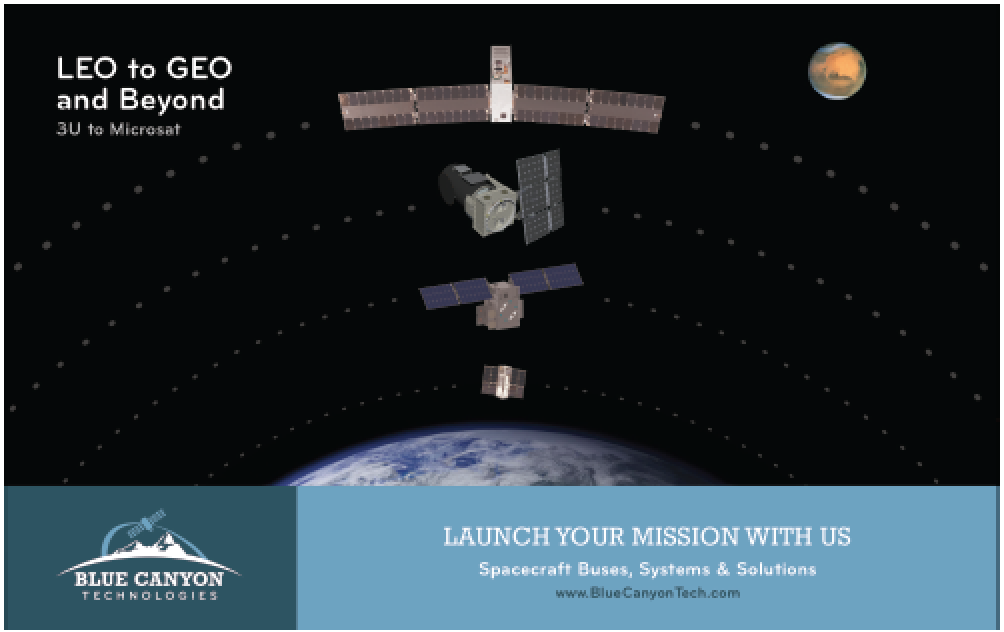 In February of 2017, a PSLV carried a record 104 satellites to space. The next launch will carry some 30 small customer satellites to space — their weights ranging from 1 to 100 kg.
Today, it takes 300-plus engineers and about 40 days to assemble a PSLV. A small launcher that can be ready perhaps in as few as three days by a small team would make a big difference in the market, as well as to the launch provider, according to Dr. Sivan.
For one plus, satellite operators need not wait one or two years to launch their spacecraft. In shared space rides, satellites going on the same rocket must have compatible sizes and shapes. The thinking, he said, is why waste a big vehicle for a small job?
Secondly, a ride on small launchers could even be a ninth or tenth of the present cost. ISRO, he said, will not be the first to think of a small launcher.
"Globally, the small satellites market is booming as they are used for various applications. Some of ISRO's satellites are also going to reduce in mass. As such, worldwide, operators and private players are developing small launchers to capture the market at a much lower cost," Dr. Sivan explained.
Global space industry consulting firm Euroconsult estimated in July that 6,200 smallsats — many of them constellations — would be launched during the 2017 to 2026 timeframe and touch a market value of $30 billion — up from $8.9 billion in the last decade.
www.isro.gov.in
Article sourced from The Hindu, authored by Madhumathi D.S
---
Arianespace signs an Intelsat two satellite launch contract
Arianespace has signed an agreement to launch two satellites for longtime customer Intelsat, one of the world's largest satellite operators.
This contract continues the longstanding relationship between Intelsat and Arianespace that dates back to 1983.
The first launch will carry the Galaxy 30 satellite together with the Orbital ATK Mission Extension Vehicle-2 (MEV- 2) as a stacked pair.
Galaxy 30 will be the first replacement satellite for the North American Galaxy Fleet and in addition to its C-band payload, Galaxy 30 will include Ku- and Ka-band payloads to support broadband applications in North America.
The launch of Galaxy 30 demonstrates Intelsat's commitment to its distribution neighborhoods, which has an unmatched penetration of cable headends in the United States. Galaxy 30 is based on Orbital ATK's GEOStar-2™ satellite platform.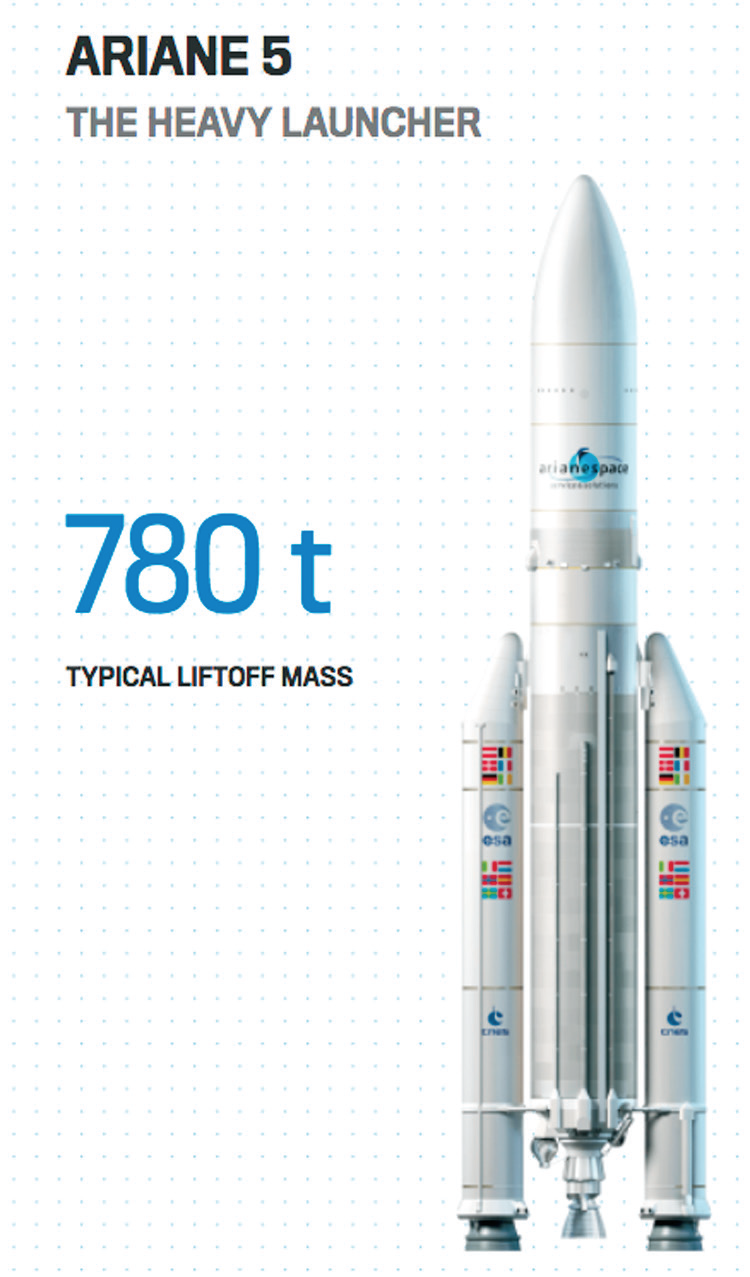 The MEV-2 satellite is owned by Orbital ATK's Space Logistics LLC subsidiary. Intelsat will be the first customer of the MEV-2. The MEV-2 provides life-extending services by taking over the orbit maintenance and attitude control functions of a client's spacecraft.
Under the contract, Arianespace will also launch an additional satellite for Intelsat in the second half of 2020.
Arianespace will launch the first pair of satellites, Intelsat's Galaxy 30 satellite and the MEV-2, in early 2020 from Europe's Spaceport in South America aboard an Ariane 5 launch vehicle.
Stéphane Israël, CEO of Arianespace, said that his company is honored yet again to be selected by Intelsat for the safe and timely delivery of its satellites. Going back nearly four decades, a relationship of mutual confidence with Intelsat has always been enjoyed.
Israël added that Arianespace is proud to be able to perpetuate this epic friendship with two more launches, one of which will feature stacked payloads in the upper position of the Ariane 5, proof of the company's ability to bring to the table the most innovative solutions for customers.
Ken Lee, SVP, Space Systems at Intelsat, added that Arianespace has been one of Intelsat's most long-standing and trusted partners. Since 2016, Arianespace has successfully completed five missions on behalf of Intelsat, including four that included the company's next-generation Intelsat EpicNG spacecrafts.
www.arianespace.com
www.intelsat.com
---
ViaSat-2's Beta services started
Viasat Inc. has initiated beta service on the ViaSat-2 satellite and has affirmed plans for full commercial service launch in February 2018.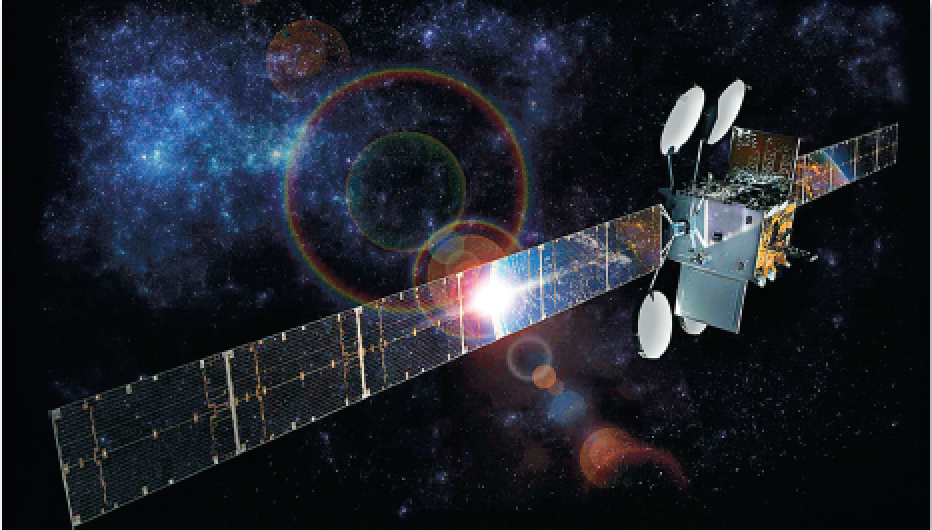 The ViaSat-2 satellite system is expected to significantly improve speeds, reduce costs and expand the footprint of broadband services across North America, Central America, the Caribbean, a portion of northern South America, as well as the primary aeronautical and maritime routes across the Atlantic Ocean between North America and Europe.
To date, Viasat has successfully completed a number of key performance tests on the ViaSat-2 satellite and end-to-end network, including demonstrating downstream speeds of over 100 Mbps to production consumer terminals.
The satellite ground network and other networking technologies are performing better than initially planned as measured in successful alpha testing.
The satellite will continue to undergo testing during the beta service period, as Boeing has identified — as of this writing — an on orbit antenna issue, which has caused some spot beams to perform differently than they did during ground testing. Boeing, with Viasat's support, is working to determine the root cause of the issue and to identify corrective measures.
Based on measured data and analysis of the current on orbit performance of the satellite as well as the network as a whole, Viasat believes the issue will not impact the coverage area of the satellite, or materially impact the planned services and the expected financial results from the ViaSat-2 system.
Mark Dankberg, chairman and CEO, Viasat said that the company's advanced ground network, coupled with the flexibility features of the ViaSat-2 satellite, will help to manage the impact from the identified antenna issue, if needed.
The Company will provide an update on the status of the ViaSat-2 service launch plans and ViaSat-1 based market testing of these plans at the next regularly scheduled earnings conference call, planned for early February 2018.
www.viasat.com
---